There are many varieties of the Indian pale ale, but American IPA is in a category on its own. The bright, juicy, bitter, and soft drink is one of the most prized craft beer varieties today.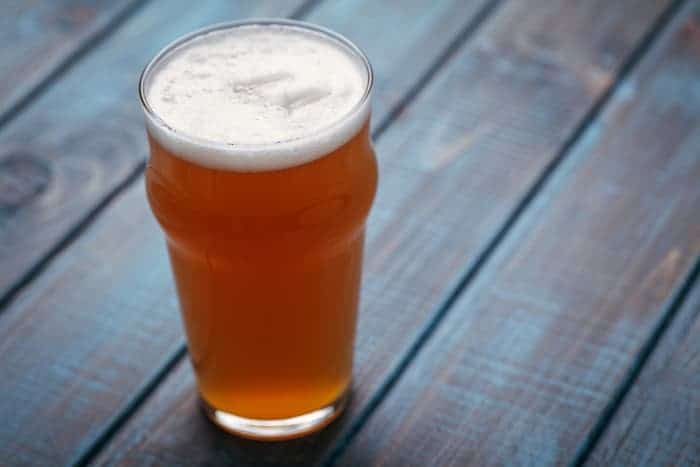 Whether you're a long-time fan of this popular ale or a beer nerd curious about this classic, we've got you covered.
Keep reading as I bring you up-to-date on the origin, preparation, and unique characteristics of the American IPA.
What is the American Indian Pale Ale (IPA)?
American IPA is a beer style high on hop flavor, aroma, and bitterness. It is close to the English IPA with a malt character and has a distinct mix of American hop varieties.
If you're a hophead, you're surely going to love this American-style pale!
Let's explore this beer further to learn what makes it the favorite beer in America.
History of the American Indian Pale Ale
The origin story of this young American classic goes back a long time. Its nearest predecessor is another classic in its own right: the British IPA.
Indian Pale Ale resulted from Britain's consistent effort to supply beer to their troops in India. They formulated an English style ale that would survive long ocean trips without refrigeration and extreme temperatures.
The story of the American IPA begins in the 1970s, along with the beginning of the American Craft Beer Movement. Liberty Ale, identified as the first American IPA, was introduced in 1975, as part of the bicentennial celebrations going on in the United States. It commemorated Paul Revere's ride in 1775 when the population was still inclined toward light lager-style beers.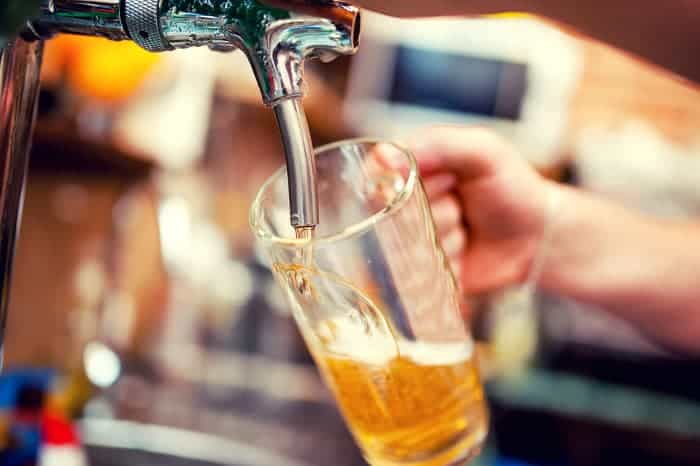 This was a period when American craft brewers took a lot of interest in brewing old beer styles with unique twists. The movement was also fueled by the availability of a wide variety of hop styles in the United States. The result was a craft beer with a British IPA at its core but with more fruity freshness and apparent differences in flavor.
Peculiar Features of the American IPA
Appearance
American IPAs have color ranges between gold and red, with fast-rising bubbles due to carbonation. The head has a white or off-white color and good persistence.
It has a cleaner fermentation character and appears clear, while unfiltered dry-hopped versions appear cloudy with a slight haze.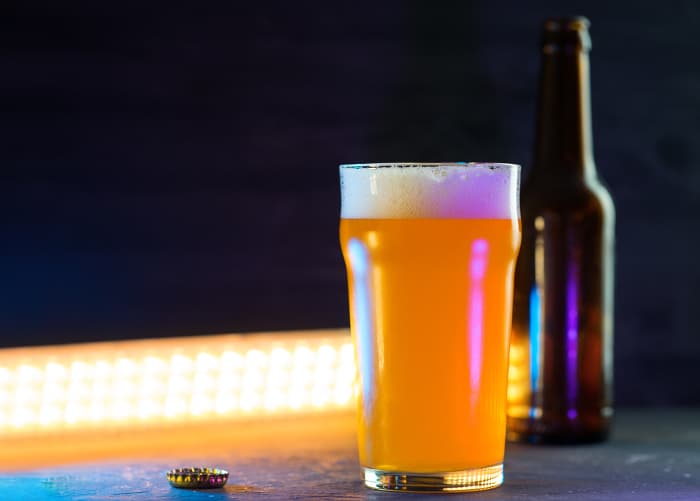 Aroma
The mix of American hops adds a distinct fruity character and earthy aromas to this IPA. You will surely sense the exotic hop flavors coming on very strongly in this beer style.
This brew is much sharper and has a powerful flare. You might also notice floral flavors with piney, resinous, and sulfur-like notes.
Overall, the style has a minimal grassy aroma and a grainy-malty aroma.
Flavor
This ale has a hop-forward, tropical, earthy flavor with biscuity or caramel notes of character from malt. Along with its intense hop aroma with citrus notes, there is also the unique herbal character.
It is strong on the bitter front, with an International Bitterness Unit (IBU) between 50 and 70. There is little to no residual sweetness while the aftertaste is slightly hoppy and bitter.
Some casual beer drinkers might miss this one, but this ale does have a very balanced bit of malt character that is so widely appreciated.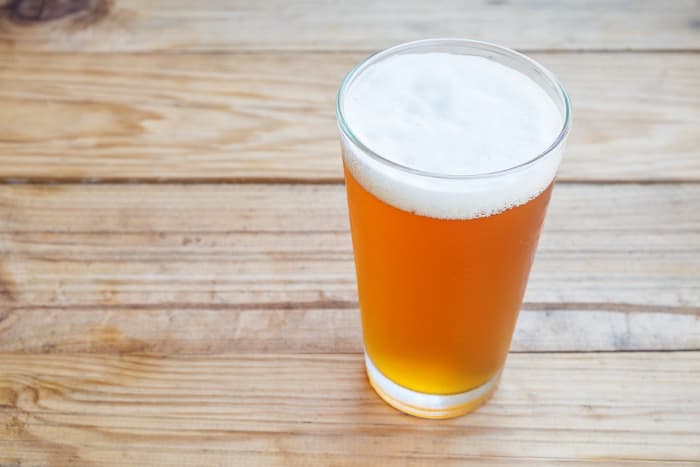 Mouthfeel
The beer style has a smooth, soft, and sticky mouthfeel with a medium to long finish. The carbonation is between medium and medium-high but without any astringency from hops.
Alcohol Content
The alcohol content or ABV range (alcohol by volume) is between 5% and 8%. It is highly alcoholic in comparison to other pale ales.
Best Foods to Pair the American IPA With?
The IPA gives your palate an adventure but also cleanses it later. Since it's a hop-forward drink, it brings out heat, bitterness, and saltiness in foods.
This popular pale ale pairs the best with deep-fried delicacies or spicy Mexican dishes that pack a kick. The beer works to amp up and douse the flames of such meal styles.
Here are some dishes and sides you must try with these American beers:
Spicy tuna roll
Fried chicken
Buffalo chicken
Blue cheese
Crispy roasted poultry skins
Grilled and caramelized burgers or steaks
Burrito supreme
Fajitas
Wisconsin cheese curds
Indian curries
Chicken Korma
Fish tacos
Caramelized onions
Salted nuts
If you're looking for some sweet surprise to go with this pale ale, then here are some options to try:
Persimmon rice pudding
Ginger spiced chocolate truffle
Carrot cake
Ingredients and Preparation of the American IPA
The ease of brewing and access to resources makes this pale ale an American brewers' favorite.
If you're one to brew your beers yourself, then this list of ingredients will help you:
American two-row malt or pale ale as the base
High mineral content water
American yeast strain or English yeast strains with a clean or fruity profile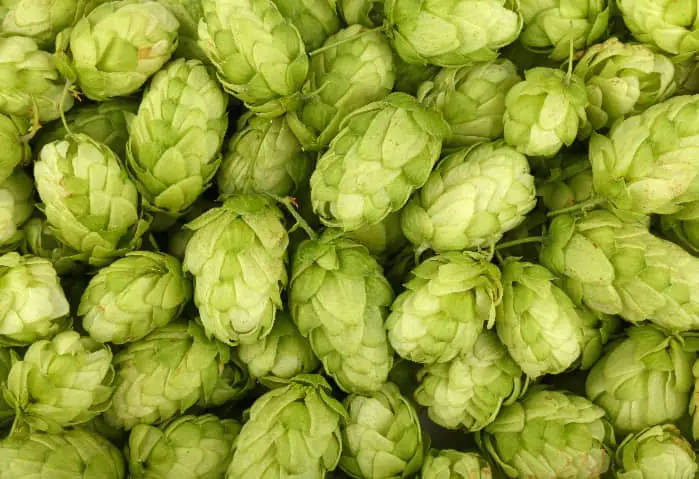 The most distinctive element in preparing an IPA brew is the relatively short amount of time it takes—it can be ready within a week.
Another unique feature of the preparation of this beer is the all-malt consistency. The mashing of the malts is at lower temperatures to facilitate high attenuation. As a result, the beer is more alcoholic and drier than its contemporaries.
Top Five Popular American IPAs
Are you itching to jump on the IPA beer lovers' bandwagon? Here are five must-try options to satiate your palates!
1. Susan by Hill Farmstead Brewery
With a 6.2% ABV, the Susan IPA comes with hops from Yakima Valley, and Riwaka hops from New Zealand. It is a highly balanced style with great aroma and taste. It is medium-bodied, smooth, and moderately bitter. The heady topper is white with a hazy appearance.
It's the perfect IPA if you're looking for a fresh, fruity flavor with a hop-forward profile.
2. Nelson From Alpine Beer Company
The Nelson is a straw-hued IPA from Alpine Beer Company. It is hazy with a white foamy head with a tropical hop aroma. Its ABV is 7% with an IBU of 40.
The hop used is the Nelson Sauvin varietal from New Zealand, while the effortless balance of malt backbone is due to the addition of European rye malts.
Go for the Nelson if you're looking for a more complex variety and a well-balanced craft ale.
3. Axe Man by Surly Brewing Company
The Axe Man has a 7.2% percent ABV and a high IBU.
It is a hop-forward style with Citra and Mosaic hops, giving this beer a rich tropical fruit and citrus aroma. The taste has a slight malty sweetness, while the finishing hop character is rich and dry.
4. Yellow Rose From The Lone Pint Brewery
The Yellow Rose is one of the core brews from the Lone Pint Brewery. It has an ABV of six-point-eight percent and an IBU of sixty-two.
It is a dry-hopping version with a white head. The backbone has a clean malt flavor with hoppy notes of grapefruit, pineapple, and blueberry. It is a strong beer with little intensity and depth.
5. The Pupil by Societe Brewing Co.
The Pupil by Society Brewing Co. is an IPA with a 7.5% ABV.
It has a tropical hop with bright flavors of mango and guava. The style is medium-bodied and smooth with mild bitterness. It is perfect for those who like a complex ale with a clean finish.
Wrapping up the American IPA
American IPA is a bold and bitter beer that's one of the most popular beer styles in the United States. It accentuates bold and spicy flavors in food and cleanses the palate well. The brewing process is also relatively quick.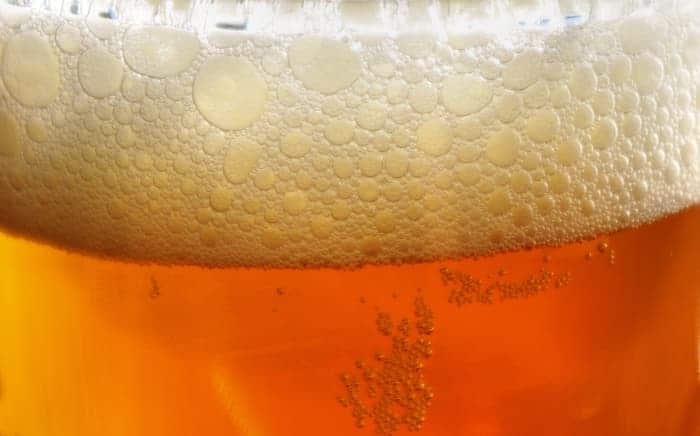 Whether you're going for a brewery tasting of this ale or trying to brew it, you're about to get a pleasant surprise!
If you'd like to explore the American IPA's closest beer relative after this, then here's a guide to the English IPA.