Spring is a great time to be an Arizonan. Yes we are already experiencing our spring here in Arizona after our long two weeks of slightly winter like weather.  The best part about spring in Arizona, is our Arizona beer week. This is a jam packed week of festivals and events that cater to the craft beer drinkers and home brewers.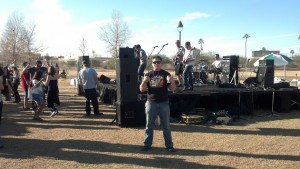 This last weekend I had the opportunity to attend the Arizona Strong beer festival. It was just that, a festival for strong beers that are usually specialty, or limited release beers for most breweries. These beers included barrel aged five and seven year old barley wines, double and triple IPA's, Imperial stouts, imperial porters and some other high gravity beers to name a few.
This is a great time to experience all of the specialty beers that are on the market today. Many beers were barrel aged in old whiskey barrels imparting delicious whiskey notes into the beers. Some were high gravity beers that had been aging for over seven years.  These beers were flavored and spiced with all sorts of uncommon special ingredients. It was a beer enthusiasts dream to be able to try all of these exotic and local beers that might take you years to find and try on your own.

There was a really good showing from the Arizona craft breweries as well as a large population of breweries from out of state.  More than 40 brewers in total, all with several beers to try.  I would definitely recommend bringing a designated driver because after all those delicious high alcohol beers it's hard to stand up straight let alone drive a vehicle. The local food trucks had a strong showing as well for those like me who needed a meal to help soak up some of the beer.
I personally had a blast tasting all of these beers and listening to the live bands that were playing. If you haven't ever gone to a beer festival I strongly recommend you attend a couple. So if you are in town next year for Arizona beer week I definitely recommend the strong beer festival.  And while you are here you might as well hang out for the multitude of other craft beer events during Arizona beer week.  But look for beer festivals in your area they are a blast and a great way to try new beers.

')}