I personally like to go out and sample beers from a lot of the craft brewers. I mean let's face it, they are just home brewers that made good enough beer they could quit their real jobs :). More and more of craft brewers are going to cans because of the longer shelf life. This longer shelf life  in stores makes their beer a little more profitable. Well one of the bigger craft breweries near Mesa, AZ (where I live) decided to have a, "what can you build out of beer cans" competition. You were allowed a 12 pack of empty beer cans and the box that they came in as your only materials. The prize: a one hundred dollar gift card to the brewery restaurant (one of my favorite places to eat/drink).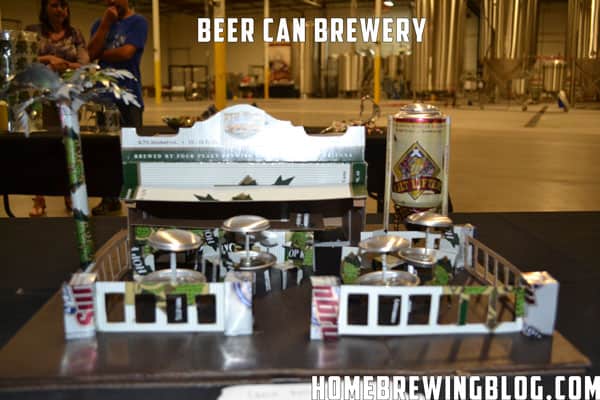 I had competed in their pumpkin carving contest before and found out that the competition is a little fierce at these events. I thought I had carved a very competitive pumpkin for the competition; boy was I was wrong. Turns out there are some pumpkin artists out there way better than I am (most likely relatives to Rembrandt or Picasso, I never stood a chance). Either way, I greatly underestimated the quality of entries in the competition.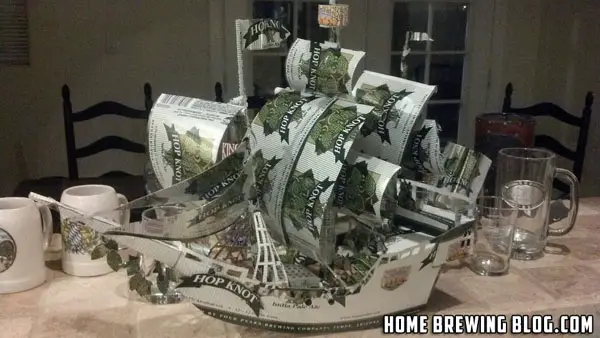 When I saw the can building competition I knew this was my chance to get back my honor and win some beer. Or at least do a lot better than I did last time as an honorable mention, free T-shirt winner. So I decided to make a ship. When I started I was thinking that I would build more of a cartoonish ship that looked relatively ship-like and had sails. But when I started I kept making it nicer, more realistic, added more details, and it kept growing and looking cooler. Many hours and bandages later I came to and I had created this.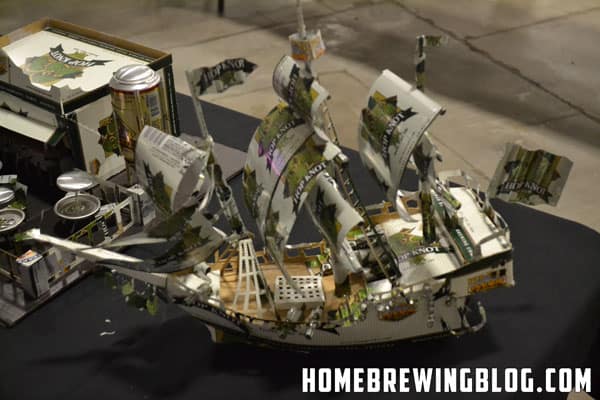 Word to the wise, I recommend not using super glue because it travels very easily across aluminum to your fingers, instantly binding you to your project. I found that hot glue works much better and is easier to work with even though I burnt myself many times with the glue gun.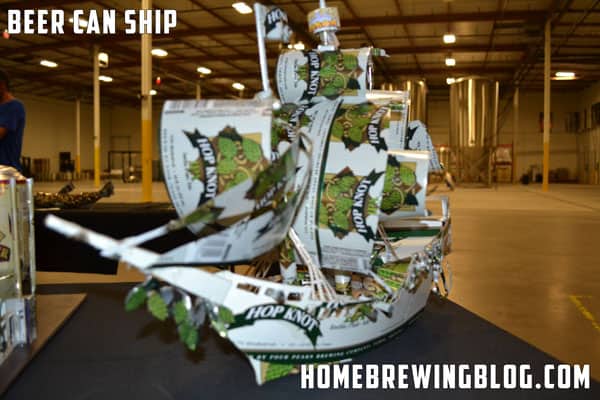 I know this isn't a home brew tip, but I  thought I would show my new found talent in aluminum can sculpting. I have seen the winners of the competition in years past and was pretty confident that my ship would do well. I mean I have never felt like I have wasted more time in my life so it must be good. Either way I was happy with how my beer can ship, the Hop Knotilus, turned out. It was named after the Hop Knot beer cans used for materials.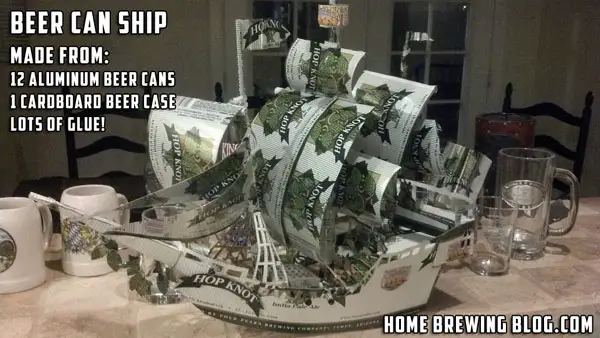 It turns out that I got the best overall award and the $100 for my beer can ship and my girlfriend won $50 for best brewery representation. Overall it was a very successful venture. Who knows, we might even host a beer can art competition of our own right here on The Home Brewing Blog!
  ')}