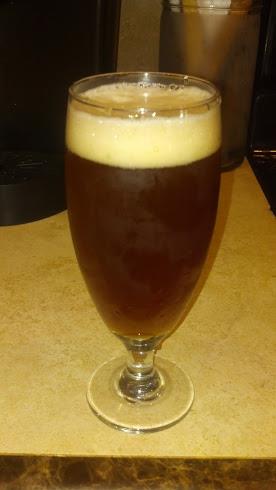 The Scottish ale was poured today for the first time. It poured perfectly, with just an inch and a half of head on the first pour out of the keg. It was conditioned in the keg for four days at 30 psi for carbonation. We had to carbonate it a little quickly for my brothers birthday party but it turned out fine. We pulled off about two pints of dregs that had settled in the bottom. The beer is still a bit cloudier than hoped for but the flavor is great. I have made several ales before but this is my first Scottish style ale.
It has a mild sweet and malty aroma, with very little hop aroma noticeable. There is also a slight citrus aroma that seems to come and go it is so faint.  In the flavor profile it is a very malty beer and has a medium malt caramel sweetness up front and finishes with a very light earthy hop flavor. The beer is very crisp and easy to drink. The hop flavor is very mild. The color turned out a light brown to dark copper color with a clean full head. About a 25-26 on the beer color SRM guide.
Overall I was very satisfied with the beer. If it were going in to a competition it might loose a couple points in hop profile and flavor because of the sweetness but I think it hit the mark pretty well in most categories. I was worried when I racked it into the keg because for some reason at the time I thought I could smell something a little off. I don't know if it was my mind playing tricks on me or if the few days in the keg helped the beer to mellow out but the final product turned out pretty dang good. That's saying something coming from me because I am a hop-head if there ever was one and ales have never been too high on my favorite beer lists.
You can get the recipe for this beer right here: Home Brewed Scottish Ale