I have brewed many beers, and every once and a while one would be just a little cloudy. It never bothered me much because the beer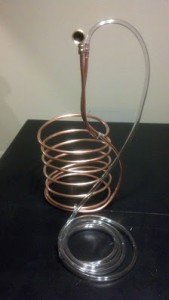 still tasted fine, and to me that's all that really matters. But I do like a good-looking clear beer as well. There are many reasons that your beer could be cloudy and I will be talking about a few here.
The first and most common reason that a beer is cloudy is chill haze. The reason this happens is by having a cold break that is insufficient or too slow. If you don't know, the cold brake is where you are finished boiling and cooling your beer down to your yeast pitching temperature. There are several ways to fix this. You can upgrade to an immersion wort chiller to cool the beer faster. If you are already using one, it might be that your house tap water isn't cold enough to cool the wort effectively. By using another small coil submerged in ice water inline with the wort chiller, your water will be much cooler going into the chiller, cooling it even faster. Also make sure you are swirling the wort; stagnant wort around the chiller will make the cooling process even slower.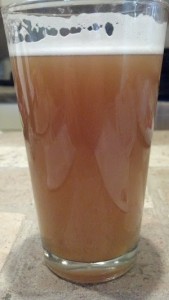 Another cause could be an incomplete starch conversion. This is more prevalent in all-grain brewing but can also happen in extract during the steeping process. If your mash temperature was not high enough during the mash or you did not mash long enough for the specific malt you were using it could cause some starches to remain unconverted in the wort and the beer to be cloudy. Mashing for longer and watching your mashing temperatures can cure this.
In extract brewing, it's generally some malt that you used in steeping that requires a mash to complete the starch conversion process. You should pay attention to the malts you are using. Some malts require a mash or a least a much longer steeping time to effectively convert the starches. Keep these things in mind and you should end up with a clearer beer in the future.
These are just a couple causes for a cloudy beer. Some beers, like German Hefeweizens, use yeasts and ingredients that make the beer cloudy no matter what you do. Wheat beer in general are usually cloudy beers. A cloudy beer isn't the end of the world but hopefully this will give a little insight into why your beer is cloudy and how you can try to clear it up the next time that you brew.