American lager is a pale lager-style beer that's generally lighter and has fewer calories than other beers. When you are looking for something reliable and easy to drink, you really can't go wrong with an American lager.
We've rounded up 5 of our favorite American Lager recipes so you can start brewing and enjoying this great beer at home. 
The average ABV is between 2.5% and 5% with extremely mild malts, hops and aroma. The flavor is very crisp and dry but does have a hint of sweetness from the corn and rice. It is known for its thirst-quenching abilities, as well as its refreshing taste. 
They tend to be highly carbonated, which could have an added bite at the end. American lagers are known for their light bodies, relatively low ABV's and smooth taste.
Although American Lagers, also known as light lagers, are seen as of the simplest beers with the least amount of taste, brewing the perfect American Lager should not be shrugged off as something simple to do. 
Because all of the flavors are so mild and the taste is so crisp, any slight mistakes you make in the brewing process is much more likely to be noticed that most other brews because the taste of American Lager's is not very forgiving. 
Lagers in America
The history of light lagers has been explained in depth in previous articles but help explain how American lagers became what they are today. 
Before the prohibition, light lagers were primarily brewed with 4 ingredients; pale malts, flaked maize, domestic hops and imported hops. The brewing process started like any other, the mashing procedure and then sparging before boiling, followed by fermentation. 
The original German ingredients for American lagers, mainly the grains, were replaced by things like corn and rice. Combining a refrigeration process called lagering during fermentation, American light lagers were a masterpiece from the start. 
You want to make sure you choose the right ingredients for a high-quality lager, so it's definitely worth doing a little research before you get started. 
This article explains the general brewing process for an American light lager along with 5 recipes to try from home when you decide to start your next homebrew.
American Lager Brewing Basics
You want to be sure to keep it simple with the malts and hops for American lagers. When it comes to malts, you generally want to stick to ones that are light in color because of how light American lagers are. 
Because they are brewed with so many adjuncts, like corn and rice, you want to make sure the malt is powerful enough to break down the starches during the brewing process to allow for easy fermentation of the sugars. 
You are going to want a 2-row/6-row mix in addition to the adjuncts that will make up about 40% of the grains. Other than balancing out bitterness, there really is nothing exceptional about the taste or aroma of the hops. 
The best choice is to stick with American hops such as cascade, chinook, magnum, or cluster. You can also use locally grown hops, but the hop profile should remain low with slight floral, herbal and spicy notes, if any.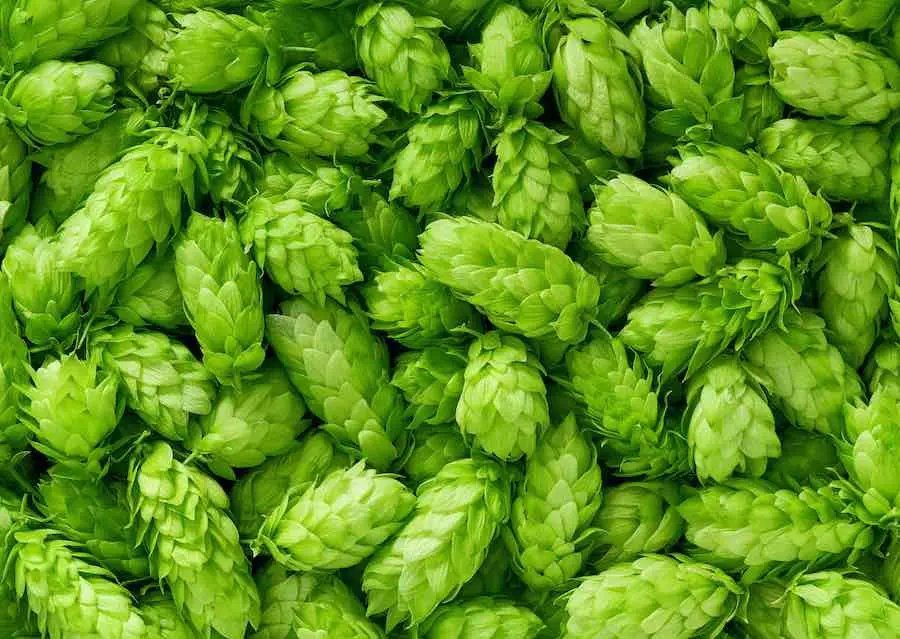 For brewing American lagers, you are going to need soft water. The recommendation is to use reverse osmosis water, or filtered tap water that has been tested for its compatibility.
American lager recipes require a very fermentable mash, so the best options are a single infusion mash or a long step mash. You will need to keep a low temperature (144-148°F) to create a highly fermentable wort. The process tends to take a bit longer because the adjuncts have to convert, and it takes some extra time with the lower temperatures. 
However, the boiling process remains the standard 60-90 minutes. At the 60-minute mark, you are going to want to add your hops, but a longer boil is suggested to help decrease DMS levels. The boil should be aggressive and make sure you have the lid off.
Next, for the yeast, you are going to want something light, clean and crispy with a slightly dry finish. Some of the suggested options from Kegerator are Wyeast American Lager (2035) or Pilsner Lager (2007), White Labs American Pilsner (WLP840) or Pilsner Lager (WLP800), Dry Yeast Saflager S-23 and W-34/70, or Imperial Organic L17 Harvest. 
When you choose the yeast, pay attention to the pitching temperature for the yeast you chose, but generally you want to cool the wort to about 50°F and follow the instructions for how much yeast to use. 
Once that's all done, you want to also make sure it's aerated well and in about 10 days the fermentation process should be complete. Towards the end, when it starts to slow, you may want to raise the temperature slightly to the low 60s for diacetyl rest. 
Once it is finished, you are going to want to start a second cold fermentation, or lagering, at 32°F for up to a month. Inevitably, you want to try for a CO2 level of about 2.5-2.8.
Now is the best part, you're ready for the American Lager Recipes. Enjoy your homebrewed American lager. Cheers!
1. Phil's Lager
This recipe from the American Homebrewers Association won a gold medal during the 2017 National Homebrew Competition under the Light Lager category. This recipe makes 5.5 gallons (20.8L) with a final gravity of 1.005 and ABV of 3.9%.
Ingredients:
6 lb. (2.72 kg) German Pilsner Malt
0.25 lb. (113 g) 10 °LCaramel malt
0.25 lb. (113 g) 20 °L Caramel malt
0.3 oz. (8.5 g) Centennial, 8.4% a.a. (60 minutes)
2 L Starter Fermentis Saflager W-34/70
1 Whirlfloc tablet
Directions:
Single infused mash at 152°F for 90 minutes
Primary fermentation is about 15 days at 54°F
Secondary fermentation is about 14 days at 34°F
2. Northern Brewer Classic American Lager
This lager recipe is a great homebrew option to try out coming from one of the Brewmasters from Northern Brewer. 
They stated the intent behind this recipe was to blur the lines a little bit between new world light lagers and traditional light lagers. They place heavy reliance on corn as a primary adjunct, with plain malts, minimal hops and a little sweetness.
Ingredients:
5 lb. Rahr 2-row
2 lbs. German Munich
.5 lbs. Flaked Maize
.25 lbs. Flaked Barley
.4 lbs. Briess Carapils
Directions:
.5 oz. Northern Brewer Hops at 60 minutes
.5 oz. Czech Saaz mash at 5 minutes at 152°F
OG 1.048
Wyeast 2124 Bohemian Lager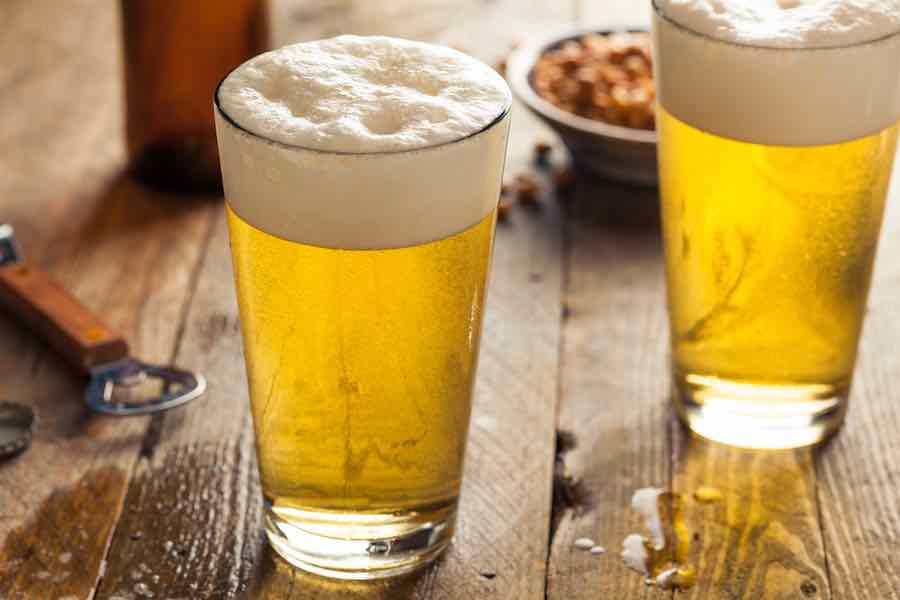 3. Martin Keen's American Lager Recipe  
Homebrew Academy also has their own version of an American Lager called Martin Keen's American Lager Recipe. It is a traditional light lager recipe that has been perfected over time to create exactly what an American lager should look, feel, smell and taste like. 
Ingredients:
9 lbs. 2-row American Pale Malt (Briess)
1 lb. 8 oz. Flaked Corn
1 lb. Vienna Malt
Directions:
1.50 oz. Hallertauer Pellets at 60 minutes
1 package California Ale (WLP001) mash at 152°F for 60 minutes
Boil for 60 minutes
4. American Pre-Prohibition Lager
This recipe was posted on Beer Recipes under an anonymous source, but the intent was to appreciate the traditional standard American lager and learn to love it again. 
It is a simple recipe, as most others are, but it shows appreciation for the founding fathers of the beer industry in the US and how it all started.
Ingredients:
5 lb. Flaked Maize
17 lb. Pale Ale
Bavarian Lager Yeast
Directions:
1.25 oz. Chinook at 60 minutes
2.25 oz. Northern Brewer at 30 minutes
1 oz. Tettnanger at 15 minutes
Mash schedule = 95°F for 15 minutes, 122°F for 30 minutes, 138°F for 15 minutes, 158°F for 45 minutes, and mash out for 15 minutes at 164°F
5. Rocky Racoon's Honey Lager
This one has a bit of a different spin on it if you wanted to try something a little different than the rest. This a popular homebrew recipe called Rocky Raccoon's Honey Lager. 
The name was originally taken from the Beatles White Album and it is a premium American lager. The honey adds a wonderful addition to the taste profile for something a little sweeter. 
The recommendation is to use honey known for its perfume-like floral aroma and flavor, such as orange blossom, basswood, linden tree, tropical climate honey, etc. The final ABV comes in at 5.5%, making it above average for typical American lagers.
Ingredients:
5.75 lb. Pilsner Malt
2.5 lb. Honey added after the boiling is finished **DO NOT BOIL THE HONEY**
.5 oz. Aramis, Mt. Hood, Santiam or U.S. Tettnang hop pellets (dry hop)
.25 oz. dried aromatic jasmine flowers (optional) added during hopping
.25 tsp. powdered Irish Moss
American Lager Yeast, Pilsner-type yeast, American ale yeast, or White Labs Cry Havoc yeast
6 oz. corn sugar for priming bottles, or 2.6 oz. corn sugar for kegging
Directions:
Step infusion mash is used. Add 6 quarts at 140°F to the crushed grain, stir, stabilize and then hold the temperature at 132°F for 30 minutes.
Add 3 quarts of boiling water and heat to bring temperature up to 155°F and hold for about 30 minutes
Raise temperature to 167°F, lauter, and sparge with 3.5 gallons of 170°F water
Collect about 5.5 gallons of runoff
1 oz. Cascade hops at 60 minutes
When 10 minutes remain, add Irish moss
After total wort boil of 60 minutes, turn off heat, stir in the honey and place the pot (covered) in a running cold-water bath for 30 minutes
Strain and sparge into sanitize fermenter
Bring total volume to 5 gallons with additional cold water if necessary
Pitch yeast at 70°F