When it comes to drinking beer, most begin with flavorless macro lagers before they move to more bold and robust ales later on in life to coincide with a person's more mature palate and tastes. 
With that being said, this doesn't mean good ol' American lagers should be dismissed in the beer drinking world. While they don't have the fancy allure that ales and other spirits offer, there's something about the simplicity of lagers that makes them one of the most versatile alcoholic beverages (at least, in my opinion). 
You can share a lager at a get-together, pair one with food, brew some at home, or simply kick back after a hard day's work and crack one open on the front porch. If you're concerned that lagers are not mature enough, think again. 
There's plenty of options to choose from, and some are made specifically for even the snobbiest of beer nerds to enjoy! American lagers come in all different varieties, from light to dark, and even amber. Contrary to popular belief, they aren't only good for chugging at frat parties. 
Some of the lagers in this article are as unique and flavorful as some of the pricest ales you'll find at an upscale bar. Without further ado, here are just some of the best American lagers out there:
This Rye Lager from Great Divide is an Oktoberfest release. It has a malt forward taste but is also spicy and crisp making it a great American made fall beer. 
Personally, I love Hoss, because it pairs so well with different types of savory foods, including BBQ chicken, Camembert cheese, veal bratwurst and carnitas tacos. It also goes great with German chocolate cake for some reason! In other words, if you like your lagers to enhance your meal and quench your thirst, this Oktoberfest lager is one of the best.
For a "Lawnmower Lager" this beer is actually complex. We offered this to someone who had requested some less quality macro lager (which we refuse to serve at our house) and all became new fans! Needless to say, it's one of the best American lagers I've ever tried.
If you've been hurt in the past by disappointing macro lagers don't let this Oskar Blues brew pass you by. While it may look like it belongs in a cheap pitcher at a college shindig it does not disappoint. Made with quality ingredients they skipped the rice and corn fillers and brewed the good stuff with this!
This collaboration between Sierra Nevada and Ballast Point certainly belongs on this list, as it fuses the crisp drinkability of a traditional German-inspired lager with the intense aromatics you would find in an American IPA . Hoppy Lager is a great addition to the Beer Camp offerings of the past but with more longevity. 
The name here really says a lot about this beer so manage your expectations. It's a great replacement for PBR and we dub it a great "no tears beer". 
Say you get to the beach and realize you forget the beer cooler at home. No worries just grab more! Cold Snacks is a great name for this new easy breezy "no tears beer". PRO TIP: if you want to up the flavor, add some lime to a Cold Snacks (you won't be disappointed!).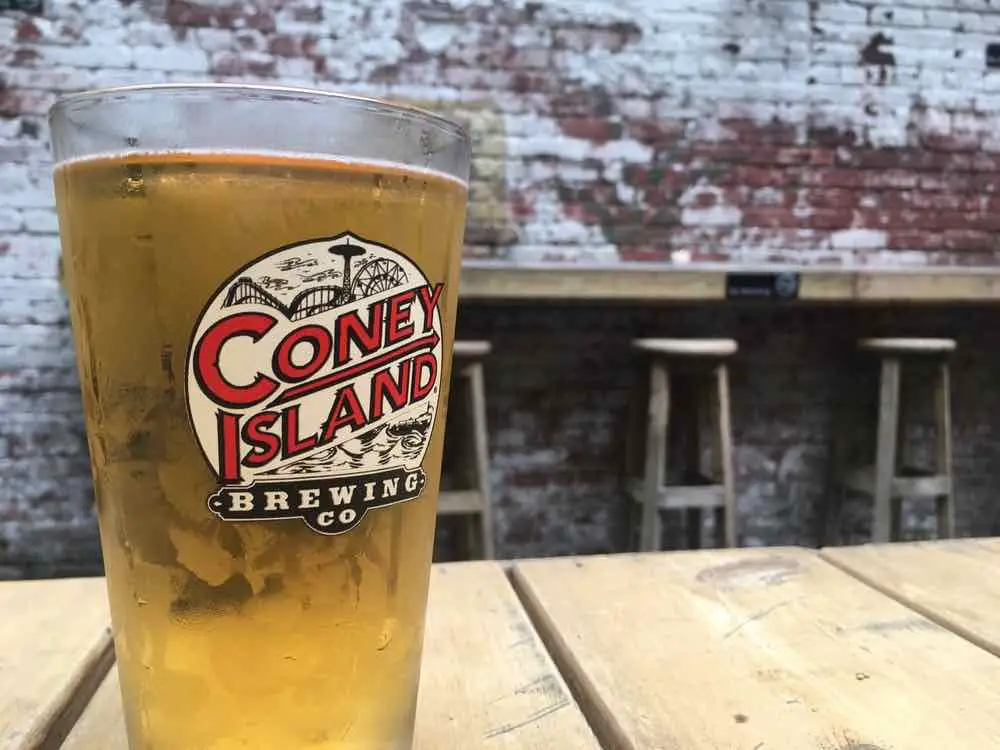 Sam Adams (the makers of the classic Boston Lager) bought Coney Island Brewing in 2013 and the American style hops shine through. Most lagers maintain a European brewing style but Coney Island Lager is different with its complex malt bill and American style hops.
Dogfish Head is known for their less traditional beers and complex method of adding hops. This is a very pear forward beer brewed with pear tea and pear juice. The traditional lager malts and Amarillo hops of Piercing Pils are a great match with the tartness and sweetness of the pear.
Scrimshaw Pilsner has turned many crappy beer drinkers into craft brew fans. An understanding bartender many years ago served this to my less than picky beer drinking buddies and turned them into discriminating beer nerds!
You may never think about Hawaii and Germany being similar (or even think about them together) but this Blonde Lager made by Maui Brewing is a true German style lager. It has a crisp hop finish.
5 American Lager Recipes To Brew At Home
Beer nerds tend to have phases (like artists) and when we first saw Baba we were in a deep IPA phase. Despite that we still tried it! It comes in a black lager can with a black sheep on it. This is a delicious and sessionable porter.
Black Bock has complexity in its dark malts but remains light bodied and lager like. This beer earned instant credibility with us when we tried it!
The Czech and German hops used to brew this pilsner give it an earthy and spicy finish. Victory Prima Pils pairs well with anything and is a great alternative to the folks that prefer an IPA or stout with big flavors.
Enjoy an American Lager Today!
As you can see, the best American lagers can be diverse in terms of taste, quality, and price range. They can even be made at home with a home brewing kit. 
The best part is, these kits are inexpensive (you can find some on Amazon right now!) and easy to use. If you're looking for specific American lager recipes to brew at home, I suggest looking online as there are plenty of them across multiple websites and blogs. If you're more of a visual-learner, then you can always search for recipes on YouTube.
If you want to see more lists like this in the future, be sure to keep up to date with the Home Brewing Blog; we post everything from homebrewing recipes, reviews and history of specific spirits, and much more!