Coffee beer emerged onto the craft beer scene in the mid-1990s and has built a loyal beer following ever since. While it might initially sound unappealing, coffee and beer work remarkably well together when done the right way and there are plenty of breweries that are making great coffee beers.
If you're new to the concept of coffee and beer together in the same beverage, you may not know where to start (or if you even should start!). Keep reading to learn about some of the best coffee beers to try!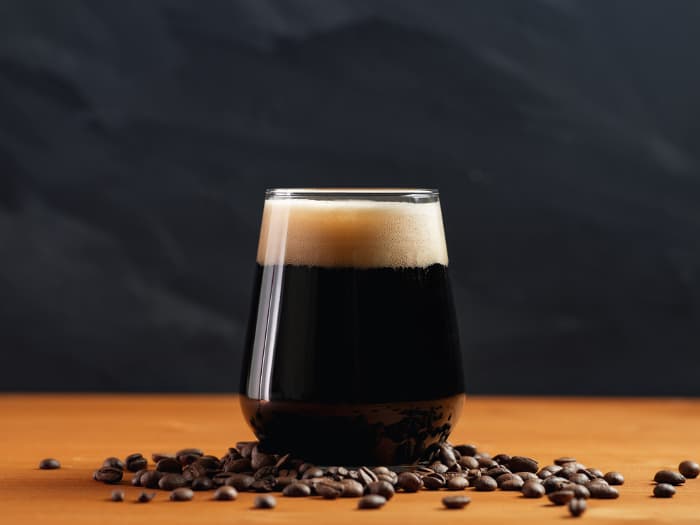 2021 Great American Beer Festival Winners
The logical place to begin our list is with last year's winners at the GABF in the Coffee Beer and Coffee Stout or Porter categories.
Coffee Beer Winners
1. Trash Panda by Metazoa Brewing Co.
The gold medal winner for Coffee Beer was Metazoa Brewing's Trash Panda. Made with oats, wheat, marshmallow for sweetness, and Blue Mind Roasting coffee, this blonde ale doesn't just score high with beer judges, it scores high with beer drinkers as well. Taste descriptions include things like "vanilla" and "cookie" for this vanilla latte-inspired coffee beer.
2. Daybreak by Wolf's Ridge Brewing
Daybreak took the Coffee Beer gold medal in 2020's GABF and earned the silver the following year. An interesting thing to note is that Ohio is killing it when it comes to pale coffee beers! The residents love it and apparently beer judges do too. Daybreak has actually inspired other brewers in Ohio to start making their own coffee beers – quite an endorsement for this cream ale that rewards you with vanilla and light roast coffee flavor from One Line Coffee.
3. Golden Stout by Karl Strauss Brewing Co.
Coming in with the bronze for Coffee Beer was Golden Stout by Karl Strauss Brewing. For those new to the term, a "golden stout" has the flavor of a stout without the dark color (no roasted barley). This one gets its Ethiopian coffee flavor from Bird Rock Coffee Roasters, but you'll also detect sweet chocolate from vanilla and cocoa nibs (which begs the coffee/chocolate beer debate).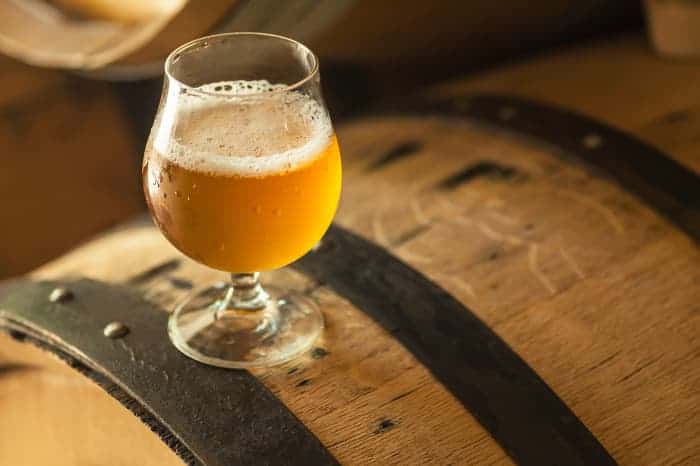 Coffee Stout or Porter Winner
4. Vlad the Barista by Bearded Tang Brewing
In this category, the gold medal winner was Vlad the Barista. This full body beer offers strong coffee, chocolate, and vanilla flavors. The online reviews on this one line up with the judges' ruling!
5. Venti is Large by Hop Dogma Brewing Co.
Taking the silver medal was Venti is Large (you have to love the humor in craft brewing!). This beer is described as milky and sweet, with strong coffee, chocolate, and vanilla flavors. One 4 out of 5 stars reviewer described it as tasting like "a cold latte," which sounds pretty great.
6. Captain's Coffee Stout by Galveston Bay Beer Co.
And finally, the bronze was awarded to Captain's Coffee Stout. Cold-brew coffee is added after fermentation which gives this beer a very strong coffee flavor and a cocoa aroma. It's described as "toasty" and "roasty" and it's a beer coffee lovers will enjoy.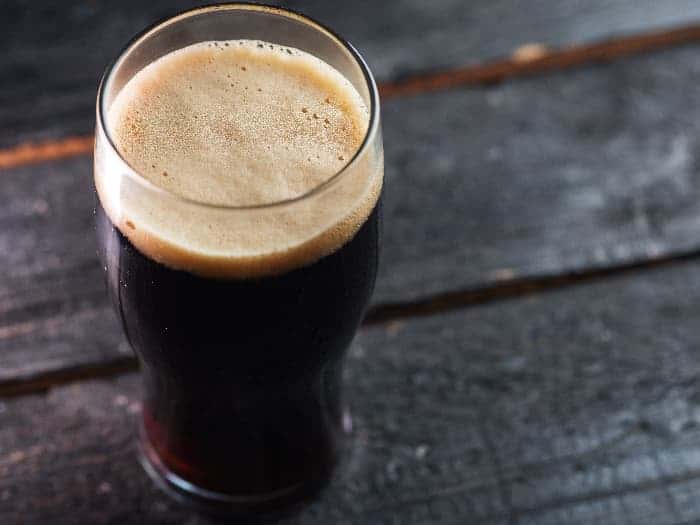 More Must-Try Coffee Beers
Now we share some coffee beers to try if you can't find GABF winners.
Stouts
7. Coffee Stout by New Glarus Brewing
New Glarus' Coffee Stout was the original commercially released coffee beer in 1994. The fact that it's still available nearly 20 years later tells you it's still relevant. You'll get coffee, chocolate, and caramel in the aroma, with a sweet, malty taste with hints of molasses. One reviewer declared this could replace your morning cup of joe (not that we're endorsing morning drinking!).
8. Super Tonic by Docent Brewing
Super Tonic is a past GABF winner, so you know this one's going to be good. Sipping this you'll taste chocolate (the brewer says "milk" but reviewers say it's more like "baker's"), roasted grains, and coffee. It's won multiple awards. 'Nuff said.
9. Nitro Breakfast Stout by Founders Brewing Co.
Nitro Breakfast Stout is brewed with oats, two kinds of coffee, and chocolate with nitrogen to make it all nice and creamy. If you check out the reviews on Untappd and BeerAdvocate you see that people love this coffee beer, which means you probably will too.
10. Kentucky Breakfast Stout by Founders Brewing Company
Kentucky Breakfast Stout is another one of those beers where the reviews don't lie – this is another crowd favorite. It's an Imperial stout aged in oak bourbon barrels with lots of chocolate and coffee flavor to boot. You'll also get the vanilla and oak from the barrel aging. This is a definite must-try!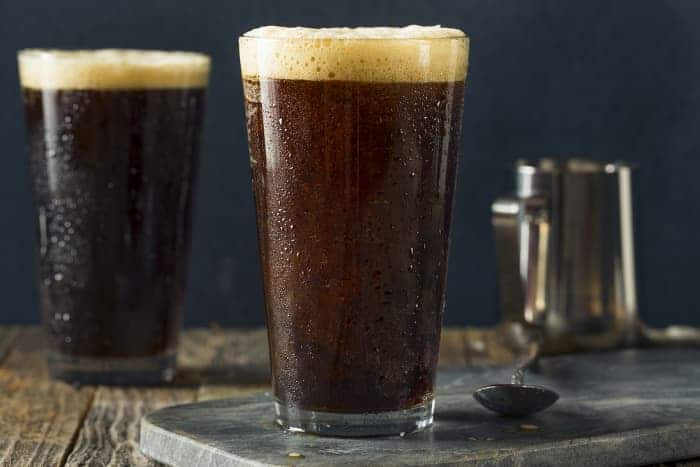 11. Guinness Nitro Brew Coffee Stout by Guinness Brewery
Guinness Nitro Brew Coffee Stout comes from one of the heavy hitters of stout beer. This coffee stout delivers the cold brew coffee flavor, but also chocolate and caramel to complement the espresso. It's worth noting this is one of the more bitter coffee beers with the chocolate and sweetness coming at the end, so you won't get the experience of drinking a cold coffee latte as with others on this list.
12. Milk Stout by Left Hand Brewing Co.
Milk Stout is said to be THE milk stout you want to start with if you've never had one. This is the signature beer of Left Hand Brewing Co and you'll taste brown sugar, chocolate, and coffee notes in this coffee beer. The rave reviews don't lie about this beer!
13. Bomb! by Prairie Artisan Ales
Bomb! stands out from the coffee beer crowd with the heat it gets from ancho chili powder that's not too hot – but just enough to go up against the coffee, chocolate, and vanilla bean flavors. This beer pops up on quite a few "best" lists, which is a sign this beer is worth sampling.
14. Xocoveza Tres Leches by Stone Brewing
Xocoveza Tres Leches is inspired by Mexican hot chocolate with Pasilla pepper, cinnamon, nutmeg, vanilla, and chocolate with coffee and caramel and cream to bring the "tres leches" aspect to this coffee beer. You'll detect all of these in the aroma and you'll get them in the flavor as well, although not as strong.
15. Mornin' Delight by Toppling Goliath Brewing Co.
If you love maple syrup, Toppling Goliath's Mornin' Delight is a coffee stout you'll enjoy. It's heavy on the coffee and maple flavor with vanilla, toffee, and chocolate also in the aroma. Some also detect semi-sweet chocolate in the taste. This beer gets serious love in the online reviews, so you'll want to try it for yourself to see what the fuss is about.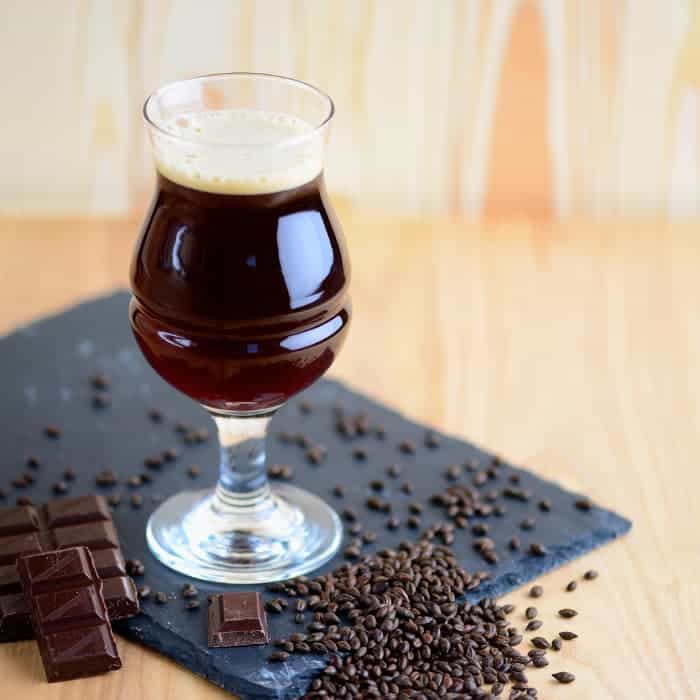 Porters
16. Death by Affogato by Oskar Blues Brewery
Inspired by an Italian dessert, Death by Affogato is a decadent coffee beer experience. You'll get chocolate, caramel, vanilla, butterscotch, vanilla, cream, and notes of fruit in this one. This is another great beer in Oskar's "Death by" lineup that you've got to try.
17. Maple Bacon Coffee Porter by Funky Buddha Brewery
Maple Bacon Coffee Porter is described by the brewer as a dinner breakfast experience in a glass with coffee, maple syrup, and bacon flavoring the beer. Reviewers do speak positively about the coffee and maple flavors, but they say the bacon is more of a suggestion in the background, which may be what makes this an appealing coffee beer.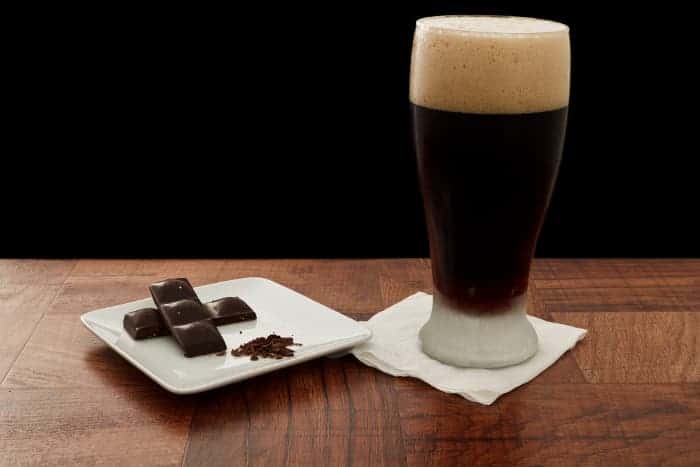 Brown Ales
18. Cubano-Style Espresso Brown Ale by Cigar City Brewing
Cubano-Style Espresso Brown Ale is brewed with Cuban-style espresso beans, along with cacao and lactose added to the brewing process. The result is a nod to a great cup of coffee. Cigar City Brewing is known for their outstanding beers, so you can trust that their coffee beer is one you've got to try.
19. Coffee Latte by Perrin Brewing Co.
Coffee Latte delights the senses with coffee.chocolate, and roasted flavors in this creamy, full-bodied beer. Reviewers describe hints of Arabica beans, caramel, milk, and malt.
To top things off, the brewers provide a Coffee Latte Caramel Crostada recipe that uses the beer as an ingredient. It's the perfect pasty accompaniment to this coffee beer!
20. Coffee Bender by Surly Brewing Co.
Surly Brewing's Coffee Bender is a house oatmeal brown ale with cold-pressed Guatemalan coffee providing the flavor of a coffee beer they describe as like drinking a cappuccino-style iced coffee. Reviewers describe maltiness, chocolate, caramel, toffee, creaminess, with floral or berry notes.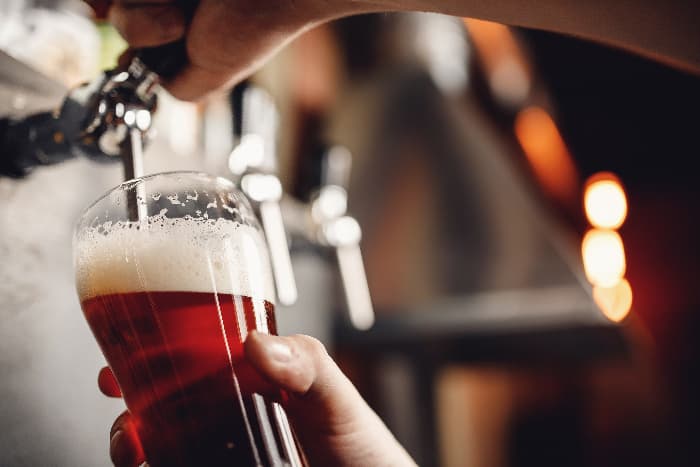 Blonde
21. Kato Latte by Sonder Brewing (you'll have to visit this Ohio brewery to get this on tap)
Kato Latte is a coffee beer that was influenced by the adoption of an Ethiopian boy (Kato) by one of the brewery's employees. As the parents learned about their son's culture, they fell in love with the Ethiopian coffee ceremony and that's how Yirgasheffe, an Ethiopian coffee, came to be used in the making of the Kato Latte beer.
As if that story isn't awesome enough, the coffee is delightful too. You'll definitely taste the coffee, along with milky caramel and vanilla flavors.
IPA
22. Rogue Cold Brew IPA by Rogue Ales
Rogue's Cold Brew IPA is bold, with a strong hoppy flavor and an equally strong coffee flavor that also contains notes of cream, caramel, and pine from the hops. There is a noticeable amount of caffeine, so this is definitely a "wake-you-up" kind of coffee beer!
Pale Ale
23. Cranknbrew by Snowbank Brewing
Coffee pale ales aren't nearly as common as the darker coffee beers, which is part of what makes Cranknbrew special. But besides the light color, the wonderful coffee flavor supplied by a coffee roaster in Fort Collins, CO is what makes drinkers happy. Reviews report that coffee, caramel, and toffee are in the aroma with a stronger coffee flavor when you drink this crisp beer.
Conclusion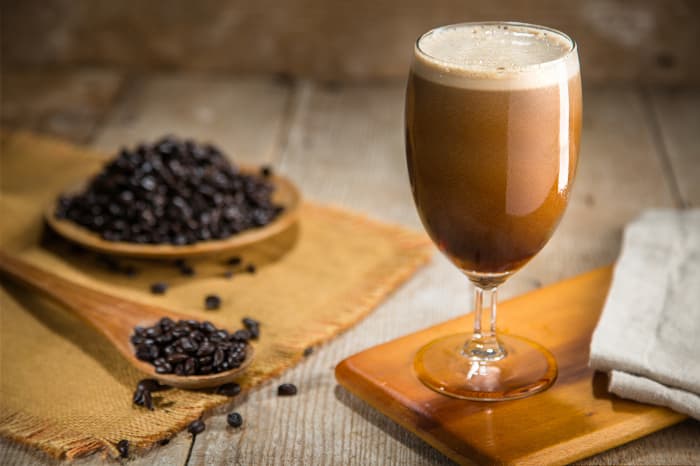 There you have it – a list of coffee beers with high scores from judges as well as everyday beer lovers. While most of them are made in the stout/porter style, there are other beer styles to choose from as well. Try a few of these and see where your tastes lie!
To read about about kinds of beer and how they're made, click here for our other beer style blog posts.