Americans love their coffee and they love their beer.  But putting them together?  As in, in the same glass?  You might be skeptical, but coffee beer has been a thing since the mid-1990s (remember that decade of frenetic ingenuity and entrepreneurship?).  Since the first coffee beers were released, coffee has been making steady inroads into the craft brewing industry and the results are, well, surprisingly good!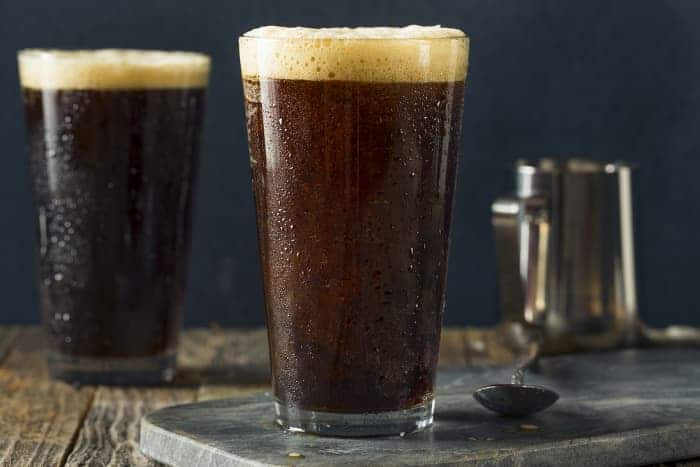 Maybe you already know about coffee beer, but you're skeptical about trying it.  Or you somehow managed to miss hearing about the trend entirely and you're wondering how something like this works.  Keep reading to learn about this craft beer that doesn't seem to be going away any time soon!
What Is a Coffee Beer?
Exactly what it sounds like.  A coffee beer is a beer with coffee added to it.  What kind of coffee, how much, and when it's added varies, along with the kind of beer the coffee is added to.  
Like other craft brews, coffee beer falls along a spectrum of colors and flavors.  This means there's sure to be a coffee beer that makes your taste buds happy.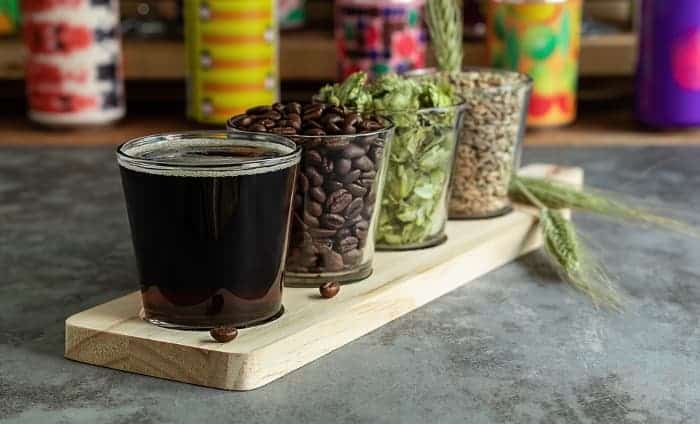 Is There Caffeine In Coffee Beer?
Yes, coffee beer does have caffeine (as you'll see in the next section, the ATF had the very same question and made sure it got answers).  But the amount of caffeine is quite low since the ratio of coffee to beer tends to be very small.
The History of Coffee Beer
The very first commercially distributed coffee beer was released in 1994 by Wisconsin's New Glarus Brewing.  They called it, simply enough, Coffee Stout.  Two years later, this beer won the silver medal at the B.T.I – World Beer Championships.  That's when the ATF took an interest and hit the "pause" button on the production of coffee beers until issues regarding caffeine content and labeling were resolved.
In 1995, Dogfish Head Brewery released their Chicory Stout beer which was made with roasted chicory and Mexican coffee.  That same year Redhook Brewing debuted Double Black Stout (still one of their most requested beers).
Since these first three beers stepped onto the stage, coffee beer has taken off and shows no signs of slowing down.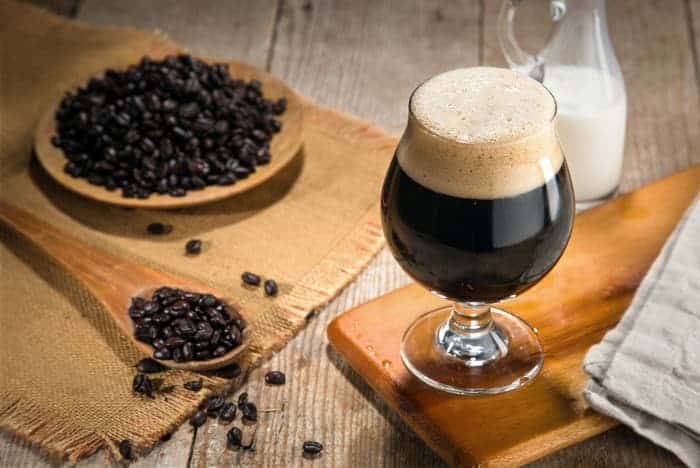 How Can Coffee and Beer Work Together?
On the surface, it doesn't seem like these two could ever work together in the same beverage.  But, done the right way, the flavors are remarkably successful.  Not just compatible, but complementary and able to coax out the best in each other.  Obviously, higher quality beers and coffees produce the best tasting coffee beers.
Craft beer offers a wide range of flavors – nutty and roasted all the way to citrusy and fruity.  Coffee flavors also fall along a similar flavor spectrum.  The trick is to pair the right combination of beer flavors with coffee flavors, which is what craft beer makers have been experimenting with for nearly twenty years.
There's no limit to what a coffee beer tastes like because there are endless flavors found in beer and in coffee.  Graham cracker, blueberry, vanilla, brown sugar, citrus, floral notes –  you get the idea.
Even Failing Is Not Failure!
Brewers admit that not every pairing has been a success.  But that's the great thing about an industry like craft brewing – no time spent brewing is ever wasted because learning what doesn't work is valuable information when creating the next batch.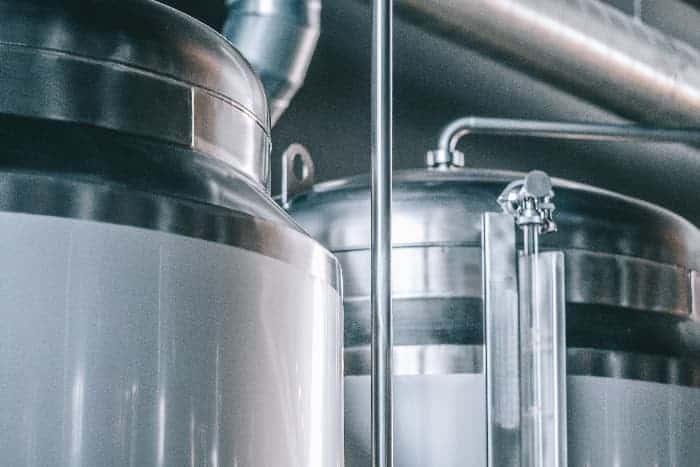 What Kinds of Beers Are Used To Make Coffee Beer?
In the beginning, stouts were the obvious choice for coffee beer.  The dark color and the rich flavors were ideal for layering coffee flavors onto.  But craft brewing likes to push boundaries, so it was inevitable that coffee would be added to other kinds of beer.
Today you can find coffee in kolsch, saison, pale ale, IPA, golden ale, brown ale, lager, altbier, cream ale, Scotch ale, wheat ale, Belgian beer, and so on.  The choices are nearly overwhelming.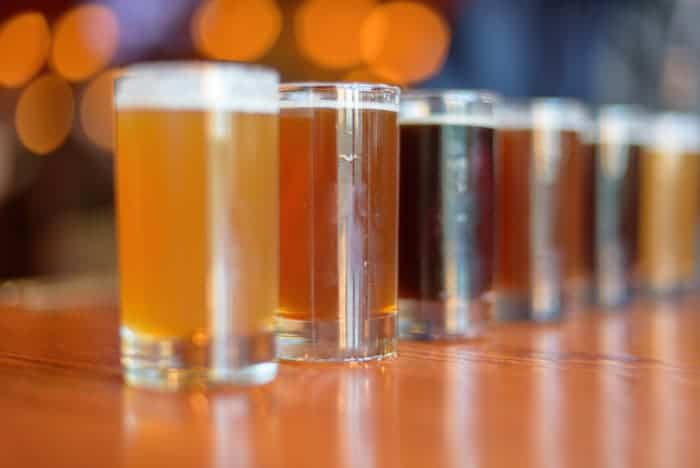 What Kinds of Coffee Are Used To Make Coffee Beer?
Like the base beer, there doesn't seem to be any hard and fast rule about what kind of coffee bean is used, either.  Only that it tastes good and brings something to the flavor table.  The coffee can have flavors similar to those in the beer or it can add flavors to the beer's flavor (such as fruit or spices).  
It's not uncommon to find beer breweries in partnership with nearby coffee shops or roasters.  The roasting method affects the flavor of the coffee, which in turn affects the taste of the beer, so establishing a roaster-brewer relationship makes sense.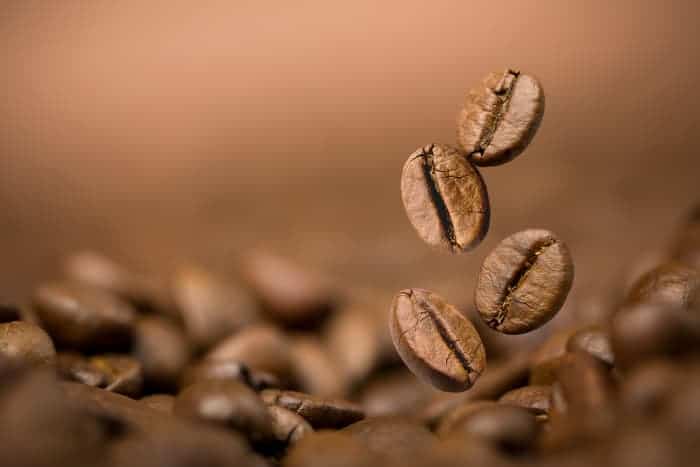 Coffee is added to beer in one of two ways.  Dry coffee grounds are added to the grain during the fermentation process or cold-brew coffee is added directly to the beer after fermentation.
Why Is Cold Brew Coffee Used?
Cold brew coffee is made by soaking grounds in cold water for 24 to 48 hours to produce a highly concentrated coffee liquid.  Unlike hot brewing, the cold brew process slowly extracts the flavor from the ground coffee beans.  The resulting coffee is smooth, with low-acidity, and without the bitterness hot coffee can have.  
Cold brew is ideal for adding to beer after it's finished the fermentation process.  Because it's concentrated, cold brew coffee adds flavor without diluting the beer the way hot brewed coffee would.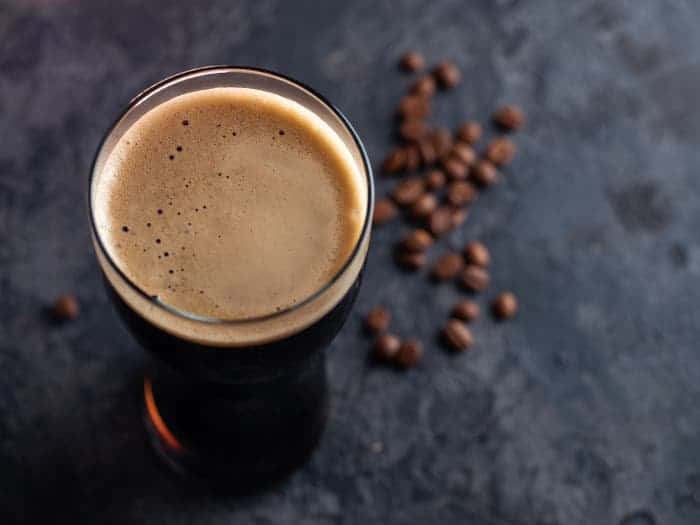 The Best Coffee Beers To Try
Hopefully now you're at least curious enough to try a coffee beer to see what they're like.  Here's a list of coffee beers to look for:
Stouts
Porters
Brown Ales
Lager
Blonde
IPA
Pale Ale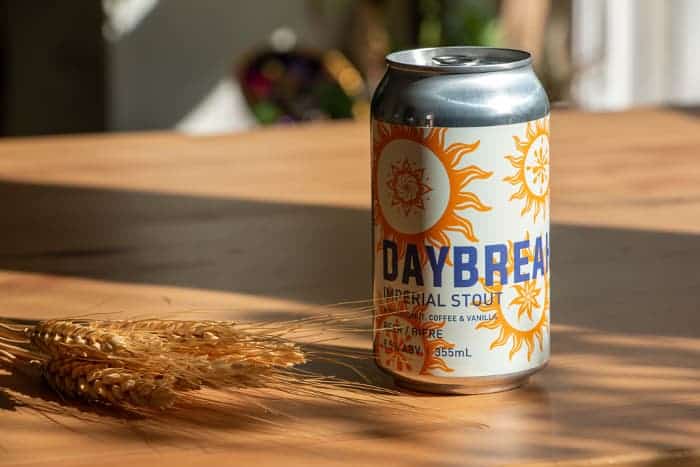 Can I Make My Own Coffee Beer At Home?
If you're a home brewmaster, you might wonder if you can create your own batch of beer coffee.  As it so happens, there are recipes for coffee beers that you can brew at home.
11 Coffee Beer Recipes for Homebrewers
If you're not a home brewer, there's still an easy at-home option.  It's called the "Muddy Dublin " and it's simply an espresso poured into a pint of Guinness.  So if you're a fan of Guinness, give this a try and see how it meets your fancy!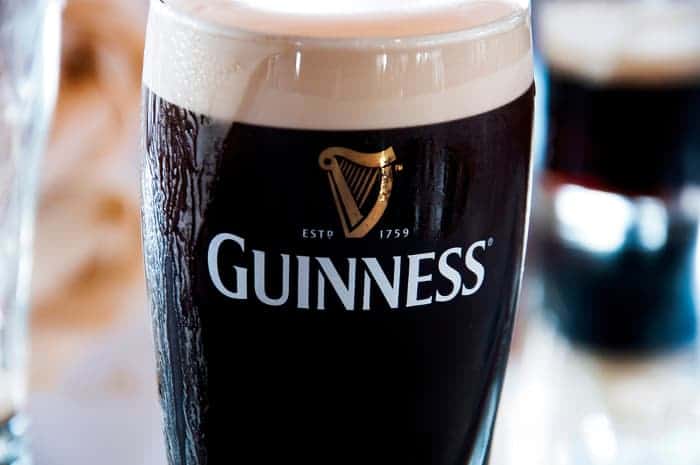 Final Weigh-In On Coffee Beer
So it seems coffee and beer can work together to create a special and tasty kind of beer.  Hopefully this article has inspired you to at least try a few of these – with all the choices out there, there's at least one coffee beer that's right for you!  And if you're a home brewer, why not try your hand to create your own coffee beer that's perfectly suited for your tastes?
Do you have a favorite coffee beer that's not on our list? Have you ever made your own coffee beer at home? Let us know in the comments section below! To read about other kinds of beer, click here for our beer blog posts.