If you're someone with a gluten intolerance–or if you're looking to cut back on some calories–finding a good gluten-free beer can often feel impossible. Often, gluten-free beers just don't taste the same as traditional beer, leaving you just longing for a regular brew.
Thankfully, some breweries have really begun mastering the craft of making gluten-free beer. To make the search a whole lot easier on you, we've made a list of the 10 best gluten-free beers for your drinking pleasure.
10. High Hops Puckerberry
A beautiful purple color that you're not used to seeing in beers, the High Hops Puckerberry Blackberry Sour is a tarty beer that you'll absolutely love. You can enjoy this beer happily and guilt-free knowing that it isn't made with any gluten whatsoever, and you won't miss the flavor one bit. Instead, your tongue will be enveloped in flavors of blackberry and other purple fruits.
If you're someone who isn't a fan of the traditional taste of beer, this is a great option for you. Sweet, light, and refreshing, High Hops Puckerberry Blackberry Sour is hard to resist.
9. New Planet Blonde Ale
A super refreshing blonde ale without any gluten? Yes, please. New Planet has perfected its gluten-free blonde ale for year-round enjoyment. With how light and crisp this beer is, you can have it during all of your adventures, whether you're chilling by the pool or cooking dinner with your friends. No matter when you're drinking New Planet Blonde Ale, you will be doing it happily and totally guilt-free. It's easily one of the best gluten-free beers out there.
8. Holidaily Brewing Company Buckwit Belgian
Holidaily Brewing Co. is another brewery that's well-known for skipping the gluten and finding better, healthier ingredients instead.
Their Buckwit Belgian beer is made out of Buckwheat instead of traditional gluten-filled grains. The result is a delicious beer that lets off notes of orange peel and coriander. When tasted, it's super light on the tongue and makes for a refreshing option during any time of the year.
7. Omission Lager
The ultimate light beer, Omission Lager is both completely guilt-free and gluten-free. This beer has only 3 carbs and 99 calories, so you can enjoy these delicious cans without feeling (too) awful the next day.
Omission doesn't need gluten to create powerful flavors, either; this beer has your classic crisp, clean lager taste and smell. Omission also has "gluten-reduced" beers, where the gluten that's present is so minuscule it's hardly even noticeable.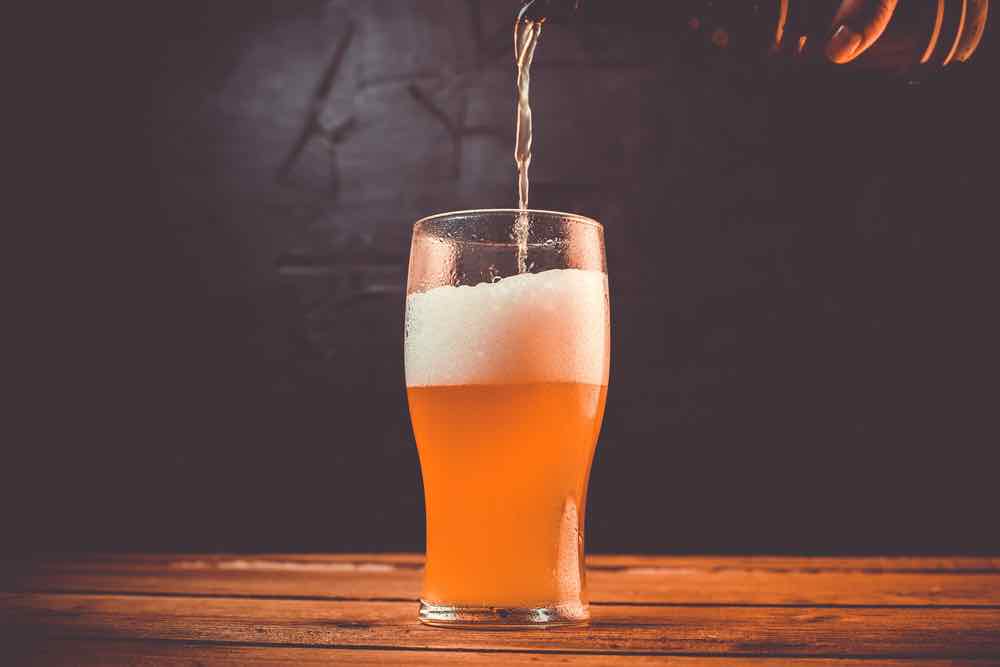 6. Ghostfish Brewing Shrouded Summit Witbier
This Belgian Witbier hails from Seattle, Washington and is totally free of any gluten. The Ghostfish Brewing Shrouded Summit Witbier brew is made using special ingredients like malted buckwheat, malted rice, and malted millet. On the tongue, this beer is known for its hints of sweet orange, banana, and clove, boasting such full flavors that you'll have no clue that there isn't even a hint of wheat inside.
Everything You Need To Know About Gluten Free Beer
5. Uinta Free-Form IPA
This low-calorie IPA is the best route to take when looking for a refreshing beverage that won't feel too heavy on the tongue. The Uinta Free-Form IPA emits flavors of passion fruit mixed with white wine, smelling like gooseberry when put under the nose. A super bright, crisp, and dry gluten-free IPA, you can sip on this low-cal beer all day long.
4. Glutenberg Blonde
A Canadian brewery dedicated to bringing customers delicious beers that don't contain any gluten, Glutenberg is a gluten-free paradise.
All of their beers are made without wheat, and you can find practically every type of beer you want on their year-long menu. The Glutenberg Blonde has notes of fennel and pears when first put up to the nose, but after taking a swig, you'll experience wonderful waves of green tea and lemon peel. With its unique flavors and novel ingredients, this is easily one of the best gluten-free beers we've tasted.
3. Evasion Brewing Hophoria IPA
Evasion Brewing is a unique brewery in that they never use gluten in their beers–ever. Every one of their selections of handcrafted beers is totally gluten-free and much healthier for you than your typical brew.
Evasion's Hophoria IPA is a deliciously fruity IPA that boasts flavors of oranges, blueberries, and stone fruit. Totally unlike anything you've had from a brewery before, Evasion sure knows how to do gluten-free right. Plus, you can order right from their website to make trying these brews a breeze.
2. Ground Breaker Pale Ale
Ground Breaker Brewery makes it super easy to find the perfect gluten-free beer. Their brewery is entirely dedicated to making gluten-free beers and foods for those who either want to avoid gluten or have to because of allergies.
Ground Breaker's Pale Ale is a great gluten-free beer option, as its flavors are bright and crisp, and available all year long. To the nose, you may be able to pick up on subtle aromas of flowers and terroir, but on the tongue, you'll experience flavors of citrus mixed with pine. Together you have in-depth flavors without the guilt, leaving you with one of the best gluten-free beers around.
1. Stone Delicious IPA
Stone Brewing creates a whole new twist on gluten-free beers. They consider their Stone Delicious IPA to be "gluten-reduced," meaning they have reduced their gluten levels so low that they're practically insignificant. While they can't technically claim to be gluten-free, there isn't enough gluten in their high-quality beers to pick up on anyway.
Their Stone Delicious IPA has a wonderfully bright Lemon Drop flavor that'll remind you of your favorite candy–only you're drinking your favorite beer instead. With these minuscule levels of gluten, pretty much every person can enjoy the unique flavors of this beer.
Guilt-Free, Gluten-Free Drinking
Now, the next time you want to enjoy a gluten-free beer, don't panic! There are so many out there for you to enjoy that don't taste like some weird off-brand beer. Instead, you're able to enjoy the rich, delicious flavors of wheat beer all without the wheat.
For more information on gluten-free brews or any other type of brew, check out our website.