When you think of Oktoberfest, it's hard not to think of beer. After all, there's not much else that it's about! Finding the best Oktoberfest beer, though, can sometimes feel overwhelming. With so many to choose from, where do you even start?
For this year's Oktoberfest, I've compiled a list of the top ten best Oktoberfest beers on the market. From pilsners to lagers, these Oktoberfest beers have got it all. 
10. Heater Allen Bobtoberfest 
A smooth, rich lager named after the founder's late brother, the Heater Allen's Bobtoberfest lager is a delicious take on traditional Oktoberfest beers. Bob was the one who got the brewery excited about making their own Oktoberfest brews, so it was only fitting that his name is showcased on the can. 
Brewed straight out of McMinnville, Oregon, this bright amber beer boasts malty flavors with just a hint of hops. Heater Allen's Bobtoberfest becomes available at the end of August or the beginning of September, giving you the perfect beer to enjoy right as fall starts to come around.  
9. Surly Brewing Co. Oktoberfest
Looking for a more traditional lager to enjoy during your festive Oktoberfest? Surly Brewing Co. has you covered. Their Oktoberfest lager is full of classic rich and malty flavors, leaving just a hint of hops on the tongue after a few sips. Super dry, Surly's Oktoberfest beer is a great option for anyone looking for a straightforward, delicious brew.
If you're lucky enough to be in Minnesota, Surly is selling these brews on tap right now. If not, you can locate some in stores near you. 
8. Ayinger Oktoberfest Märzen
Ayinger's Oktoberfest Märzen is one of the most popular (and best) Oktoberfest beers out there. When I used to bartend, this was the glass that got poured the most often by those looking for a traditional lager taste. With hints of caramel and yeast traveling throughout, Ayinger's beers are known to go down quite smoothly.
These are brewed right in Germany itself, so you know that Ayinger is knowledgeable about Oktoberfest beers. For those wanting to experience the beauty of Oktoberfest right from their hometown, this is the beer to do it.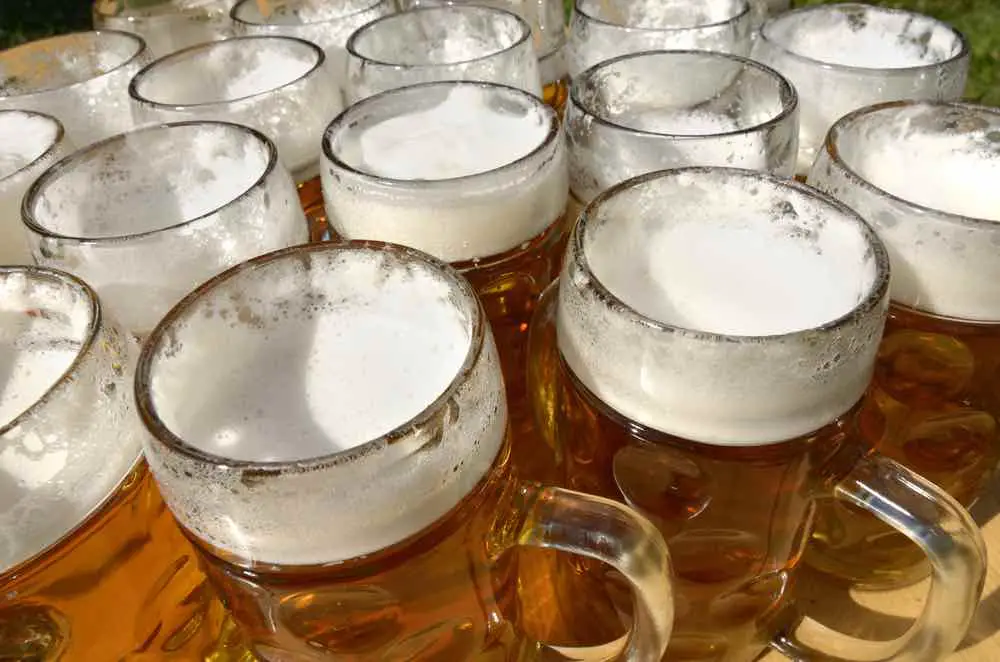 7. Samuel Adams OctoberFest
This is a beer that everyone looks forward to come time for Oktoberfest. Samuel Adam's OctoberFest is one of the company's oldest, longest-running seasonal beers they've produced yet. Every year, this beer is flocked to to help everyday people enjoy the smells and tastes of the traditional Oktoberfest. 
Oh-so slightly sweet, Sam Adams OctoberFest beer is known for its roasted flavors and smooth body. This one has actually won awards in Germany for its flavor profile, so you know this is one you have to check out. 
6. Von Trapp Oktoberfest
The Von Trapp brewery is one of the most popular places in all of Vermont to visit– and for good reason. The Von Trapp brewery produces a myriad of high-quality, authentic German-style beer that's simply hard to pass up. Every year, on top of their wide selection, they add their Von Trapp Oktoberfest to the list. 
This lager produces delicious notes of caramel and toffee, and is poured as a light amber color in your glass. The added hops create slight floral notes with hints of pepper. As a whole, Von Trapp's Oktoberfest will be a brew unlike you've had yet.
5. Hacker-Pschorr Original Oktoberfest Amber Märzen
Based right out of Munich itself Hacker-Pschorr's Original Oktoberfest Amber Märzen is a brew that can't be beaten during these fall months. Since 1417, Hacker-Pschorr has been perfecting the Bavarian brew, working diligently to accurately encompass German flavors and smooth textures. Thus, the Original Oktoberfest Amber Märzen was brewed and it's been a hit ever since.
Hacker-Pschorr calls this beer a "honey-colored piece of history," and I'd have to agree: sipping this beer takes you right back the very first Oktoberfest Germany's ever seen.
4. Sierra Nevada Brewing Co. Oktoberfest
No matter where you are, or how far you are from Germany, Sierra Nevada Brewing Co.'s Oktoberfest lager will get you there. 
As one of the brewery's most popular brews, this refreshing, crisp beer has wonderful floral notes mixed with yeasty hops. Its flavors are completely traditional to Oktoberfest.
Luckily for you, this beer is available practically anywhere that beer is sold. As long as it's fall and you're coming up on Oktoberfest time, you'll likely see this popular brew popping up left and right.
3. Fair State Festbier 
Fair State Festbier is not your traditional Oktoberfest-style beer. Fair State utilizes an extra-special decocted process, boiling part of the mash to create incredible malty flavors without having a beer that's too heavy to drink. Instead, you have a light, refreshing drink that has a depth of flavor that's almost impossible to achieve otherwise.
Using pilsner malts and lager yeasts, Fair State's Festbier has a flavor profile that's simply meant for a German-style party.
2. Brooklyn Oktoberfest
Available just briefly from August to October, Brooklyn Brewery's Märzen Oktoberfest Lager is one to cherish. This bottle boasts notes that are both traditional in German beer, as well as light and refreshing in the mouth. The most prominent flavors in this popular glass bottle are bready and sweet, perfect for a party. 
As one of the best Oktoberfest beers I've found yet, you can find this lager in most stores that sell alcohol. 
1. Avery the Kaiser
You simply cannot celebrate Oktoberfest without sipping on Avery the Kaiser. As one of the most famous Oktoberfest beers around, this mix of floral spiciness and smooth, traditional flavors is absolutely ideal on the tongue. This exact brew has won multiple awards for its rich, mouth-watering notes. 
This Colorado-based brewery, though quite far from Germany, sure knows how to do Oktoberfest right. I know, it sounds unconventional, but Avery the Kaiser is a six-pack that's essential for your German-themed party. 
Brew Your Own at Home!
In the event that you don't want to buy your own beer, or if you simply don't have an Oktoberfest beer near you that you like, you can actually make your own beer at home. 
Whether you use a whole beer kit or try the process on your own is totally up to you, but both methods are somewhat easy and you don't have to venture out to the bar or store.
Gather Brewing Equipment
In order to start the brewing process, you want to make sure you have all the materials necessary. 
Again, you can purchase an entire beer-making kit to make things easier. Otherwise, you're going to want a brewing kettle, fermenter and airlock, optional funnel, sanitizer, auto-siphon, spoon, and a beer recipe kit. 
Once you have this, you're ready to start brewing. Begin by using your sanitizer to sanitize all products you'll be working with. This is integral in ensuring that your beer brews the way it's meant to.
Time to Brew!
After you've sanitized your pots, fill your kettle with 2.5 gallons of water. As the water begins to boil, start seeping your chosen grains for about 20 minutes or so, or until the water is around 170 degrees. Remove the grains and let the excess water drip back into the kettle.
After it has been boiling, remove from heat and add in your chosen malts. After they've dissolved entirely, bring your kettle back to a boil and then start adding your hops carefully. Ensure you're following proper instruction. 
After this, you're left with something called wort, or sugar water. Using an ice bath, cool down this liquid as quickly as possible.
Fermentation Time
Take your cool wort and add it to your fermenter. Then, add water to bring the liquid level to five gallons. Start aerating your wort but splashing and stirring it around while in the container. After it has its oxygen, add your dry yeast. Make sure the container and the scissors you use are totally sanitized before doing so.
Seal your fermentor using the airlock and store it in a cool, dark place. Now, it's time to just let your beer ferment. 
Bottling Your Beer
Take your bottling bucket, after it has been sanitized, and add 16 oz. of boiled, primed sugar to it. Then, siphon the beer from the kettle into the bucket, ensuring as much sediment transfers as possible. 
From here, you can start working on getting the beer into the actual bottles themselves. Attach bottle filler to hose and hose to the bottling bucket. Open spigot and let your homemade brew pour. Put the cap on your bottle and there you have it! Beer brewed right in the comfort of your own home.
Having the Perfect Oktoberfest 
Whether you want to buy your own beer from the store or bar, or you want to brew your own, both methods are great for enjoying Oktoberfest. 
You don't have to be in Germany, either! Indulge in the rich, hoppy flavors of your favorite German beer, get outdoors, and spend some time with family. Doing all of this will help you have the best Oktoberfest yet, no matter where you're at.