Beer and chocolate have been around for centuries and each has had devoted followings from the beginning.  It was inevitable that someone would get the idea to combine the two.  If chocolate beer is a new concept to you, your first instinct might be to shudder!  (If it's because you imagined chocolate syrup squirted into a beer, we don't blame you.)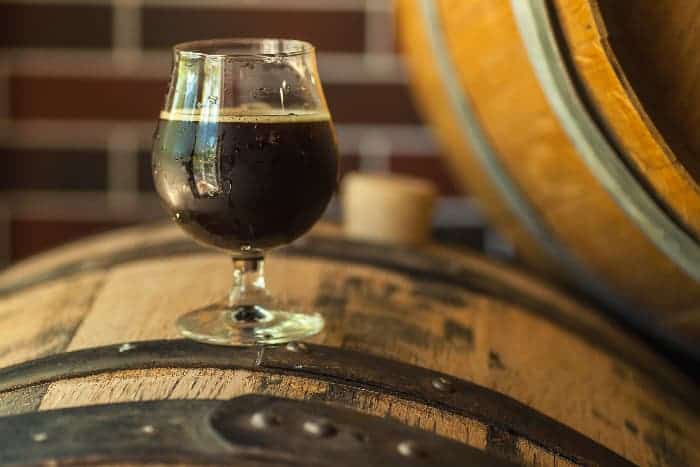 But stick with us because we'll explain why chocolate beer is a real thing, how it actually works, and why it's something you should at least try (we'll give you suggestions).  So keep reading to learn all about this special kind of craft beer and why people love it.
What Is a Chocolate Beer?
In a nutshell, a chocolate beer is a beer that chocolate or cocoa has been added to during the brewing, fermenting, or aging process.  If the chocolate is added early in the brewing (during the mash or the boil), the flavor is subtle.  If it's added during fermentation or aging, then the flavor and the aroma of the beer is much more chocolaty.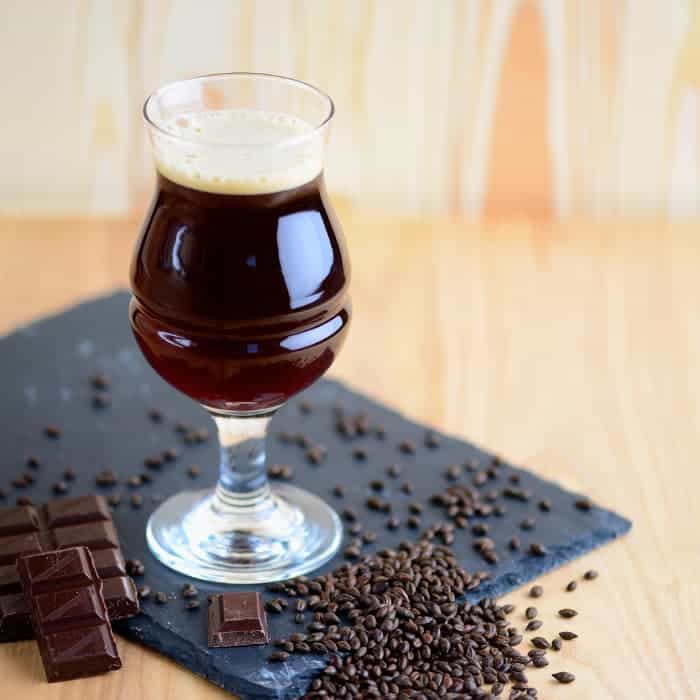 To be clear, beer made with chocolate malt is not the same as chocolate beer.  Chocolate malt is a kind of barley and gets its name from the color it gives beer and the bitterness that can remind people of the taste of chocolate.  Another malt, black patent malt, also gives a beer a chocolatey flavor. 
So, oddly enough, not every beer that has chocolate flavor profiles is an actual "chocolate beer."
History of Chocolate Beer
There's compelling evidence that a chocolate beer-like drink may be the oldest form of beer there is. Anthropologists and archaeologists discovered Residue in pottery more than 3,000 years old and believe Pre-Columbian Mesoamericans used to make a kind of beer from fermented cacao fruit.  
Chocolate beer likely became popular in the mid-90s, around the same time that coffee beer was emerging onto the craft beer stage.  Many coffee beers also have chocolate as an ingredient, so there are times when it's hard to know just what you're drinking – is it a coffee beer or a chocolate beer?  Either way, they're tasty and they're not going away any time soon.
In fact, chocolate beer has become so popular that it was added as a category at the 2011 Great American Beer Festival.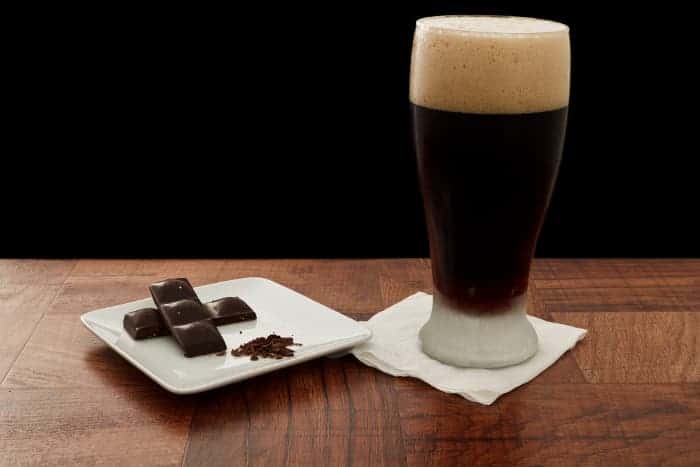 How Can Chocolate and Beer Work Together?
The answer to this means going back to where chocolate comes from and how it becomes chocolate.  
Chocolate is made from the beans of the cacao plant and there are four main species of cacao plants that are grown for the world's supply of cocoa products.  The flavor of the plant's beans are influenced by where they are grown, which means the beans have infinite nuances that will come through in the chocolate – similar to the variety of flavors that exists in the beans of coffee plants.  The roasting process cacao (or cocoa) beans go through brings out these specific flavors.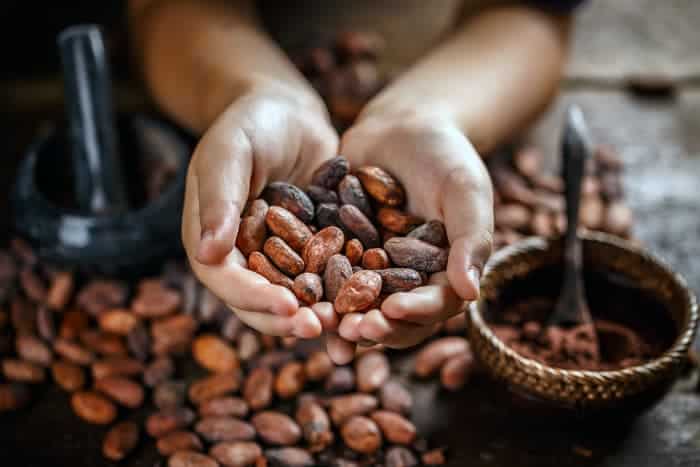 When roasted chocolate is combined with beer that uses roasted grains to create rich, sweet flavors, the final product has layers of flavors that the chocolate and the beer bring to the table.  The best pairings of chocolate and beer don't just complement one another – they actually bring out the best taste in the other.
Additional ingredients like crystal or caramel malts, and lactose sugar affect the sweetness and creaminess of the beer.  Other ingredients can add layers of spice, floral notes, and even heat to the flavor.  Obviously, the higher the quality of chocolate and beer ingredients used, the higher the quality of the finished chocolate beer.
What Kinds of Beers Are Used To Make Chocolate Beer?
Mostly brown ales, porters, and stouts, but other ales and lagers can be used – even beers as light as chocolate pale ales exist.  The chocolate flavor can be anything from unsweetened and earthy to a baker's chocolate bitter all the way to a sweet cream ale or milk stout that could be a dessert all by itself.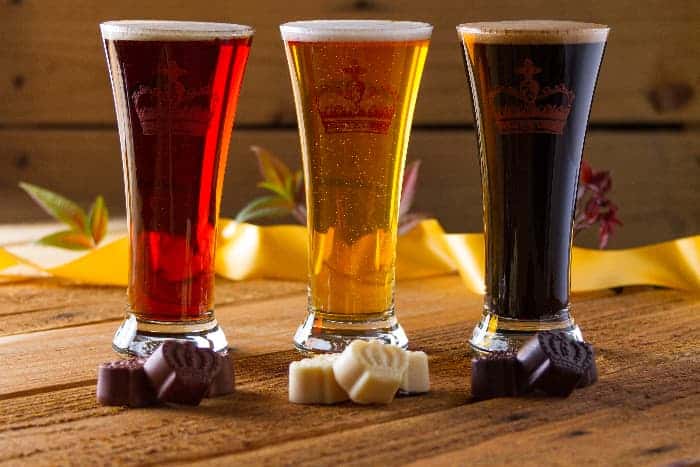 What Kinds of Chocolate Are Used To Make Chocolate Beer?
Chocolate beer is usually brewed with cocoa powder or cacao nibs (crushed pieces of cacao beans). An innovative company in Colorado offers a third option – a pure cacao product in liquid form called Cholaca. 
Using a liquid cacao for chocolate beer means brewers don't have to scrape messy nib sludge out of their tanks.  Some brewers still choose to use nibs (or use them in addition to Cholaca) because they say they can't get the flavor nuances from Cholaca that the nibs offer.  Dealing with nib sludge is just part of the price to pay for brewing exactly the chocolate beer they want. 
These days, just as brewers of coffee beer are forming partnerships with local coffee shops and roasters to get exactly the coffee beans they want for their beers, chocolate beer brewers are creating relationships with bean to bar chocolate makers.  In doing so, they can source specific cocoa beans that have the nuances of flavor they want in their beers.
Why Is Cocoa Powder/Nibs Used and Not Other Forms of Chocolate?
Cocoa powder or nibs don't contain the cocoa butter that chocolate has in processed forms.  Cocoa butter is a fat that affects the final product of a chocolate beer.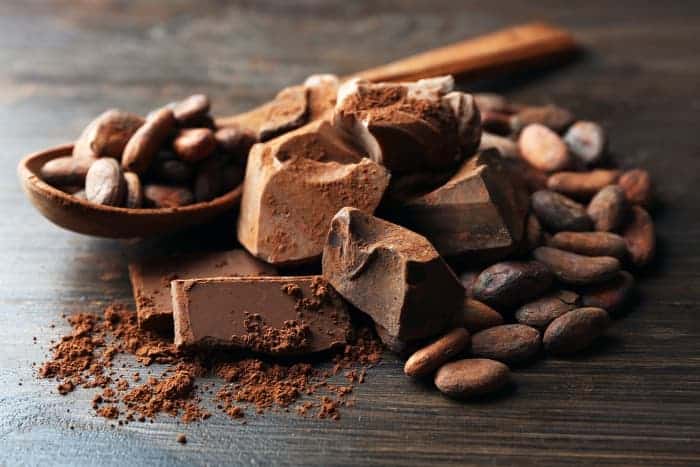 However, there are some brewers who add dark chocolate and/or chocolate essence to their brews, so there are no hard and fast rules about how to make chocolate beer.
The Best Chocolate Beers You Must Try
Hopefully, by now you're at least a little curious to see what all the fuss is about.  Here's a list of chocolate beers to be on the lookout for.
Stouts
Chocolate Stout by New Glarus Brewery
Chocolate Stout by Harpoon Brewery
Bomb! by Prairie Artisan Ales
Nitro Breakfast Stout by Founders Brewing Company
Without a Stout by Roundabout Brewery
Samoyed Stout by The Leaning Cask Brewing Co.
Cowbell Oatmeal Milk Stout by Voodoo Brewery
Double Chocolate Cherry Stout by Black Oak
Black Chocolate Stout by Brooklyn Brewery
Chocolate Stout Nitro by Rogue Ales
Double Chocolate Stout by Rogue Ales
Organic Chocolate Stout by Samuel Smith's
Oscar's Chocolate Oatmeal Stout by Sand Creek
Double Chocolate Stout by Young's
Dragon's Milk White by New Holland Brewing
Heart Shaped Box by Oakshire Brewing
Baharat Ganache by Ruben's Brews
Chocolate Rain by The Bruery
Love Notion No.9 by Great Notion Brewery
Sexual Chocolate by Foothills Brewing
Choklat by Southern Tier
Chocolate Milk Stout by Odell Lugene
Abraxas by Perennial Artisan Ales
Organic Chocolate Stout by Bison Brewing
Chocolate Oak-Aged Yeti by Great Divide Brewing Co.
Chocolate Meltdown Stout by Penn Brewery
Bear Hug Cherry Chocolate Stout by BridgePort Brewing
Oompa Loompa Chocolate Cream Stout by Fat Heads Brewery
Cocoa Fuego by DuClaw Brewing Co.
Dubious Black Chocolate Stout by North Peak Brewing Co.
Black Hand Chocolate Milk Stout by Speakeasy Ales and Lagers
Midnight Split by Yellow Bridge Brewing Co.
Tiki Torch by Couch Brewery
Cocoa Cow by Sunriver Brewing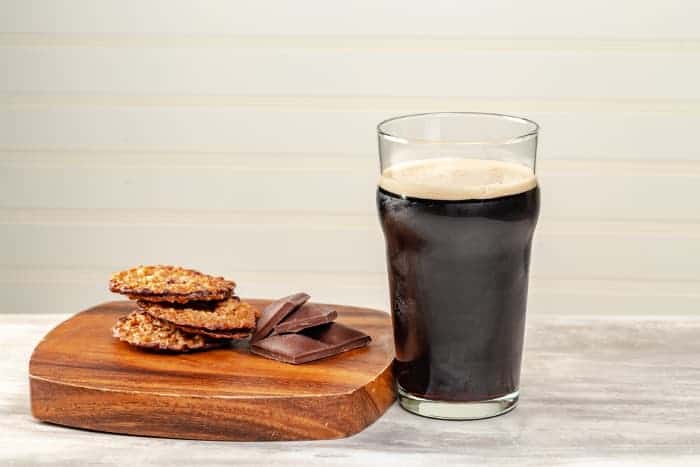 Porters
Shake Chocolate Porter by Boulder Beer Co.
Hershey's Chocolate Porter by Yeungling Brewery
Super Nebula by Block 15 Brewing
Death By Coconut Porter by Oskar Blues
Bock
Chocolate Bock by Samuel Adams
Ale
Belgian-Style
Chocolate Indulgence by Ommegang Brewery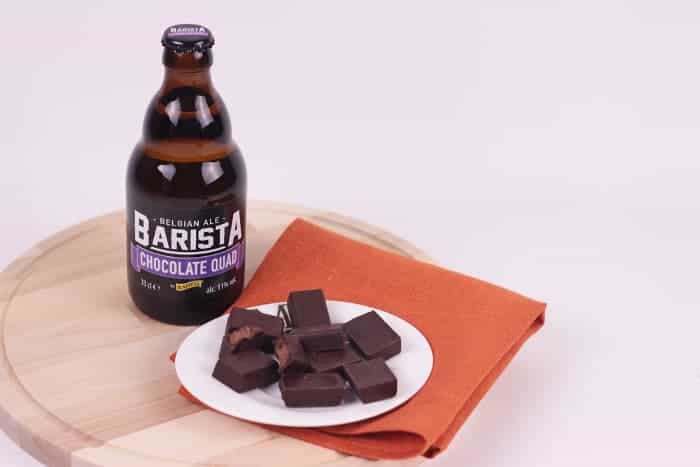 What Food Goes With Chocolate Beer?
This might be counterintuitive, but you don't always want to eat chocolate food with a chocolate beer (of course there are some exceptions).  Many gourmets recommend that the beer be sweeter than the food you have with it. Try the following suggested ideas for food pairings:
Raspberry torte
Ice cream
Cheeses
Oysters
Barbecue meats
Tamales
Venison Mole
Beef Stew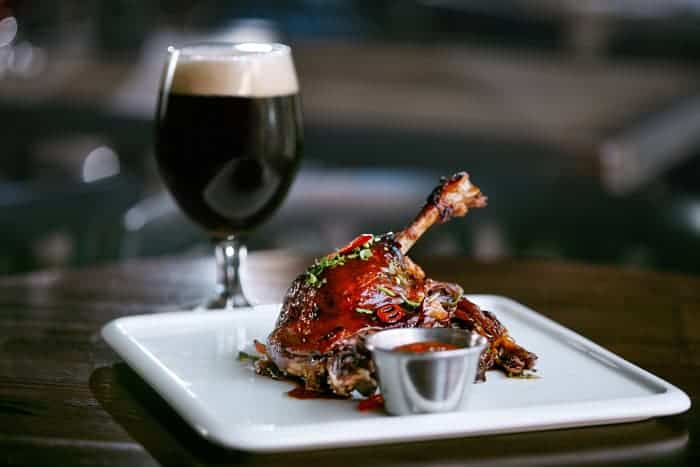 Can I Make My Own Chocolate Beer At Home?
Are you itching to start your own batch of chocolate beer at home?  If so, there are various recipes for chocolate homebrews.  Here are just a few to get you started.
Rogue Chocolate Stout Clone (the fact that people are copying this beer tells you how good it is!)
Epic Brewing Chocolate Coffee Stout
If you're not a home brewer, but you're still sold on the idea of a chocolate and beer beverage you can make at home, try this Stout Hot Chocolate recipe.
Final Thoughts On Chocolate Beer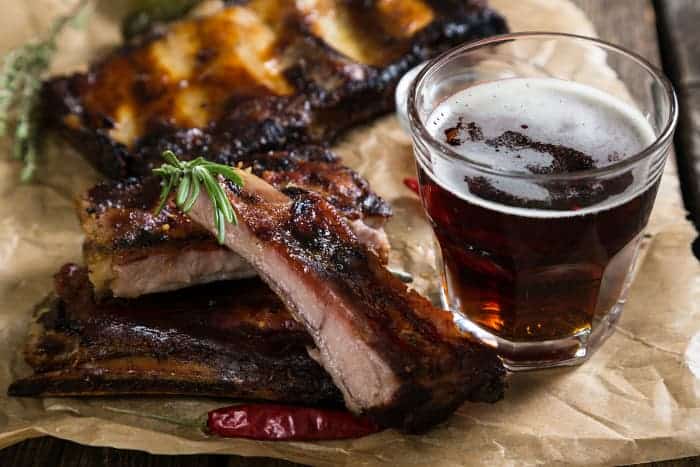 You may have begun this article wondering how anyone could ever think of putting chocolate and beer together, let alone drinking it.  But as we hope you've seen, when done the right way, chocolate beer can taste amazing.  We hope you're inspired to try at least a few of these beers on the list.  With so many choices out there, chances are high you'll find one you like.  
And for you home brewers, why not try your hand at your own chocolate beer?  You could be the creator of your next favorite beer!
Did we miss a chocolate beer that needs to be on our list? Have you ever made your own chocolate beer at home? Let us know in the comments section below! To read about other kinds of beer, click here for our beer blog posts.