If your pallet is craving something a little more intense, look no further than the sweet and salty balance of a doppelbock beer. With its bold flavors, full body and higher than average ABV, this food-friendly beer is sure to leave you satisfied. 
Doppelbock beers will take you on a journey through many of its rich flavors, specifically the dark fruit flavors that leave you with a lightly toasted finish. The dark copper brown color is accompanied by a slow to medium carbonation, topped off by a thick but foamy head.
The name for this German-style bock beer is derived from the word "doppel" which means "double" and still maintains a relatively high alcohol content, typically ranging between 7% and 12% or more by volume. They tend to be extra strong, thick and heavy lagers known for their malty sweetness, bitterness of hops and dark amber color. 
Despite its full body and high alcohol content, doppelbocks are extremely versatile and are a great option for many different types of events and food pairings.
Bock to Doppelbock
A bock style beer is a dark, malty, lightly hopped ale that originated in Germany in the 14th century. This style was later copied by brewers in Munich in the 17th century who modified the standard method to lightly kiln one-third wheat and two-thirds barley, followed by cooling and lagering the bock, which consisted of bottom fermentation and prolonged cold-conditioning methods. This method sparked a transformation into a stronger and maltier variant of the traditional bock, creating what is now known as a doppelbock. 
The new doppelbock had a slightly higher alcohol content and was dark copper brown in color, as opposed to the much lighter golden brown in the traditional bock. Minor adjustments have been made since that time, such as a darker kilned barley malt as the entire base as to leave the wheat for more high-end brews. 
The clarity is unremarkable as a result of the lagering process used during brewing and the aromas are of toasty and malty notes typically, with some versions have more of a caramel or chocolatey characteristic. 
In the beer market today, both lighter and darker versions still exist, however the darker versions are much more common. The different malts used throughout the brewing process typically determine how light or dark each batch will be. Despite the color, doppelbocks are consistently clean, smooth and slightly sweet. Doppelbocks tend to be very well paired with strong and savory dishes. Some of these include heavy meats such as venison and steak, strong cheeses like brie or Havarti, and rich desserts such as crème brulee or tiramisu. 
Salty & Sweet, With a Punch
The aroma of doppelbocks is intensely malty with some mild toasty notes and sometimes a hint of the alcohol presence.
 Darker doppelbocks sometimes have a mild fruity or dark chocolate aroma, but the rich and malty flavors are pronounced regardless of how light or dark the color is. In this particular type of beer, hops are not prevalent and will be hardly detectable, if at all. In some of the lighter variations, you might taste somewhat of a drier finish than in the darker versions.
Along with the minor variations in flavor that comes along with the darker versus lighter version of the beer, ABV also plays a factor. Most doppelbocks remain within the 6.5 to 8 percent range, but if you look hard enough you could definitely find some out there as high as 14 percent! 
Although a high ABV doppelbock is a surefire way to kick off your buzz, the lower ABV doppelbocks are able to hide the boozy alcohol taste significantly better. 
From Start to Finish
The process of brewing and fermenting doppelbocks left very little room for error, which was another added benefit of this particular type of beer. However, don't let the simplicity of its ingredients fool you! 
Doppelbocks are also known for their full mouthfeel and complexities in their flavor. The ability to create a beer that is sweet and thick, yet light and smooth, with the added malted milk aromas, outlines all of the flavor components from start to finish that are uniquely accomplished through the perfected mashing and lagering process.
Depending on the exact brewing process and ingredients used, doppelbocks typically range anywhere from a dark gold with ruby highlights to a much darker copper brown. It is typically accompanied by a large foamy head, but it should be noted that as the alcohol content goes up the liveliness of the head becomes harder to sustain. Doppelbocks have slow to medium carbonation, a soft clear body, and smooth malty finish.
Timeless Representations
There's something to be said for the consistency in the quality and timelessness of doppelbock beers. While new craft beer and homebrew ideas continue to evolve in styles, combinations and complexities, the doppelbock has remained relatively unchanged since the 17th century. Bocks, in general, have been associated with religious festivals or holidays, such as Christmas, Easter, or Lent, or other special occasions, since the beginning of their time. Historically, doppelbocks rich and bold flavors were utilized by monks during Lent as a form of sustenance during times of fasting when solid food wasn't permitted. 
Because of this, the beer came to be also known as "liquid bread". Today, doppelbocks are still extremely popular and almost every brewery has their own version in the market.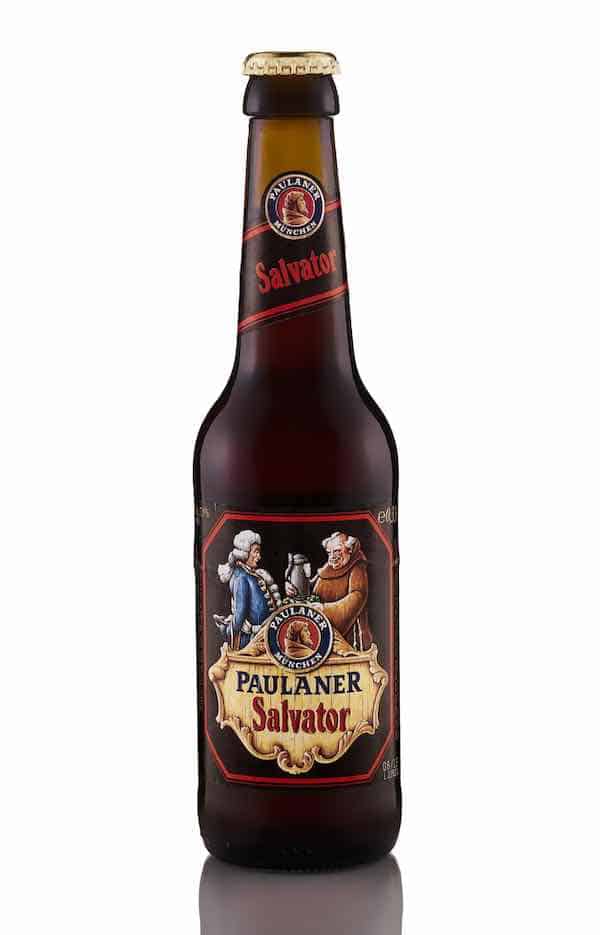 Some of the most popular examples (in no particular order) are: 
Spaten Optimator 
Bell's Consecrator
Samuel Adams Double Bock
Troegs Troegenator Double Bock
Great Lakes Doppelrock
Abita Andygator
Ayinger Privatbrauerei Ayinger Celebrator
Klosterbrauerei Andechs Andechser Doppelbock Dunkel
Thomas Hooker Liberator Doppelbock
Wagner Valley Sled Dog Triple Bock
Wiehenstephaner Kroninian
Samichlaus Bier
Ettaler Curator Doppelbock
Sly Fox Instigator 
What to Do When You Brew
The basics of brewing your own beer is much easier than you might think if you have never tried it before. To get started, check out our post, Home Brewing Equipment: The Essentials, which will explain exactly what you need to get started with your first homebrew. 
Then you can check out the article, Lazy Homebrewing – Making Beer As Cheap & Easy As Possible, which provides an easy guide to the bare bones of brewing that will help you get started with the whole process. Once you've read the guide and brewed your first batch of homebrew (congrats!), you can move on to creating countless different beers by switching up the ingredients and process slightly. 
For more information about brewing different types of beer, check out our post, 10 Easy Home Brewing Recipes Perfect For Beginners, that gives very easy to follow recipes to brew an American IPA, Single-Malt, Single-Hop IPA, Porter, English Mild Ale, American Style Wheat, German Hefeweizen, Belgian Saison, Dry Irish Stout and Pilsner. 
Specifically, for a Doppelbock, the malt you would want to use is Munich, Pilsner and either a chocolate or caramel malt with a German lager yeast. For hops, it's up to the brewer's discretion as far as the style and how many are used, so get creative with this one! The process is actually very simple and similar to other homebrews you've tried. If you use the previous articles, you shouldn't have any problem knowing what to do!
For a doppelbock process, you start out mashing and boiling as normal, but make sure you take it slow with the fermentation process. You want to make sure you keep it as clean as possible for this one, so take your time. 
You want to start the beer at about 50 degrees and then slowly increase the temperature once you get to about 4 days after the initial brewing. Generally, the temperature should increase about 1 degree per day until you hit about 60 degrees, which should be about two weeks. Once you hit 60 degrees, you can leave it for about another two weeks until it is done! Yes, it's that simple!
Time to Put Your Skills to The Test
Now that you've read all the facts about doppelbock and have an idea of what the brewing process looks like, get out there and test your skills. 
There are so many wonderful starter kits out there if you are new to the homebrew world, but also individual ingredients you can buy online, and they will ship to you in a matter of days. It's not only going to be amazing having your own homebrew doppelbock stocked at your house for parties and other events, but you'll really enjoy the feeling of sitting and opening a bottle of your own brewed beer whether you're alone or with a crowd. It's kind of like the saying, "you could taste the victory". Except this time, it's not just a metaphor! 
Here are some of my recommendations for easy to use kits and other relevant resources:
Yield: 5 Gallons
Gravity: 1.076
Final Gravity: 1.023
Color/SRM: Light Brown
ABV: 6.90%
IBU: 28
Rich and malty with hints of chocolate
Includes dry yeast to style and pre-crushed grains
All recipes are made fresh at the time of order
Automatic pump style siphon
Adhesive thermometer for fermenter
27-page beginner's guide
7.8 Gallon bucket with drilled and grommeted lid
6 Gallon glass carboy
Brews up to 6 gallons per batch
3-piece airlock for fermenting bucket
Dual function bottle filler, spigot and spout
Triple scale hydrometer
GasOne 200,000 BTU Square Heavy-Duty Single Outdoor Propane Burner for Home Brewing
Portable cast iron one burner
High heat output (200,000 BTU) with adjustable knobs 
Heavy-duty, sturdy welded frame and cast iron burner 
Hose included to attach to propane tank with o-ring 
Steel braided hose – 0-20 psi adjustable regulator included
Fully adjustable air control panel to control oxygen volume
Weight: 27.5 lbs.
FastFerment Yeast Harvesting Collection Ball – No More Sediment Contamination
Gold medal winner at the largest homebrew competition
Ferments a consistent high-quality beer
Saves time and effort of traditional fermentation
Better quality homebrew beers with no sediment 
Harvesting yeast saves money off every batch
Easy storage of yeast in refrigerator or freezer for repeated beer, wine or cider brewing
Fermentation accessories
7.9 Gallons
Rubber bung and Teflon tape included