If there's one thing non-beer drinkers complain about when it comes to what they don't like about beer, it's the "bitter" taste. Of course, as a beer drinker, I have to admit it became more of an acquired taste over time. However, honey beer could be the perfect answer for those looking for a beer that's more on the sweet side.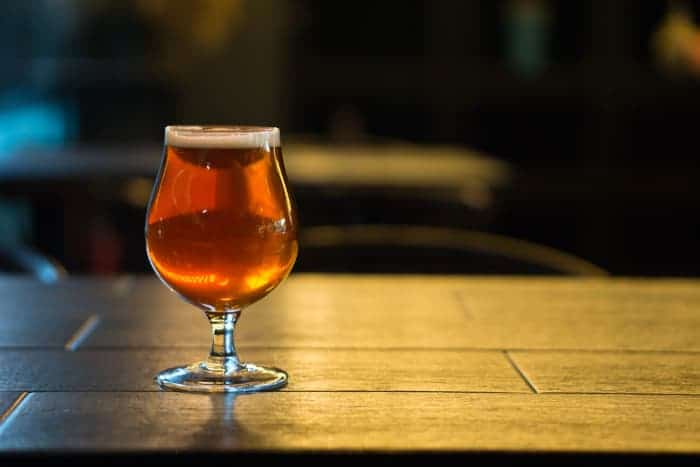 Honey is a versatile ingredient that ferments nicely and is used in many different specialty beers, such as pumpkin ales and stronger beers that are aged longer. Below we'll take a closer look at honey's role in creating delicious honey beer.
Is Honey Beer Just Mead?
Many people are under the common misconception that honey beer is simply mead. It's understandable since mead is derived from fermenting honey and water. However, the sugar used in beer is usually derived from malt, whereas honey is an added ingredient and not one of the main ingredients.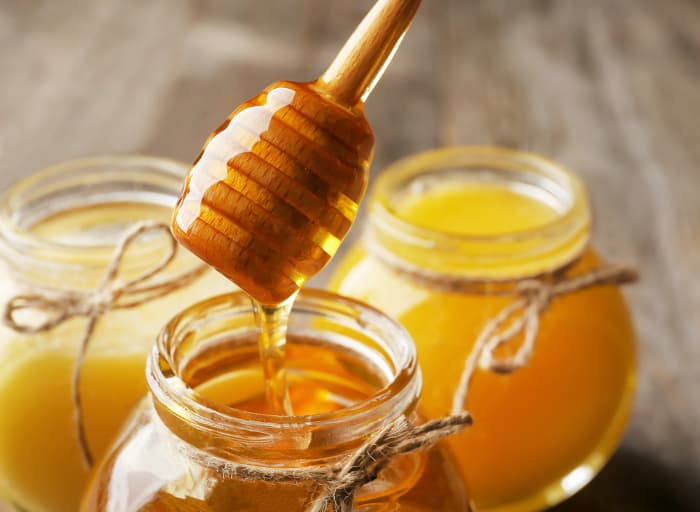 Mead is in a category separate from wine and beer, using three main ingredients, yeast, honey, and water. Another difference between mead and beer is that there's no boiling stage in mead production as there is with beer.
To break it down simply, you can tell mead, wine, and beer apart by looking at their fermented sources of sugar. For mead, it's natural honey. For Beer, it's grain, and for wine, it's grapes.
What is Braggot?
Another exciting brew is braggot, which is in a different category than mead. You had heard the term braggot before, pertaining to a person who tries to one-up or name drop at parties. However, in this case, Braggot refers to an ancient style of beer that's not quite beer and not quite mead. You see, braggot is the combination of beer and mead, and it historically dates back to the 12th century. And there are a variety of ways it can be made.
For example, it can be a 50 percent mix of malt and natural honey. Or, honey can be added to the beer during the fermentation process. Honey can also be added to a boiling kettle. There are even stories about taverns creating specialized house braggot blends by mixing mead, beer, and spices.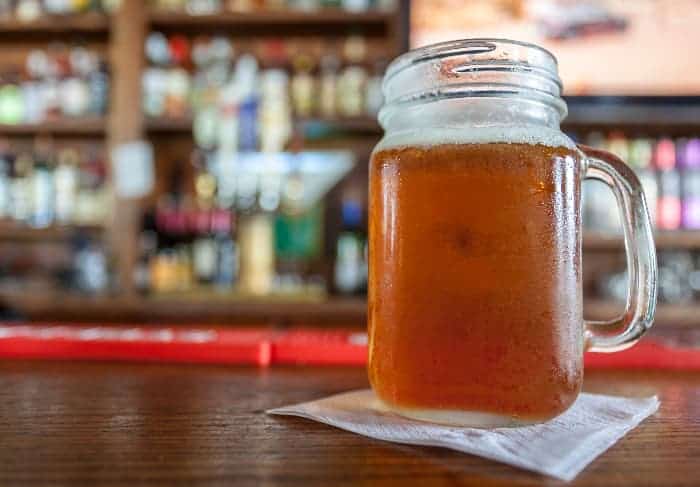 The Best Honey Beers
Here is a list of some of the very best honey beers you can find either online or at your local liquor store.
#1. The Break of Jawn
By Fifth Hammer Brewing Co., The Break of Jawn ranked Gold in the Best in Show category at the 7th Annual National Honey Beer Competition held in 2021.
This Belgian-style Witbier is brewed using coriander, fresh orange zest, and fermented using Belgian yeast.
You can taste the citrus and honey notes making this the perfect beer to complement citrus dishes such as seafood and salads.
#2. Let's Bee Homies Hazy IPA
Let's Bee Homies Hazy IPA by Deschutes and Stone Brewing who teamed up to produce this unique brew. The beer is very fragrant, with the aromas of hops and honey at the forefront.
It also has a very hazy appearance with a dark honey-colored complexion. The beer has a strong bitterness that's tempered by the strong notes of honey, making for a very deep and complex flavor profile.
The bitterness actually comes more on the backend, while on my tongue, I taste more of the sweetness of the raw honey.
#3. Grumpy Bear Honey Wheat
Grumpy Bear Honey Wheat from The Grizzly Paw Brewing Company is one of the company's five founders brews. Based in Canada, the company uses locale wheat, honey, and pale malts to create a delightfully sweet beer.
I was greeted with the aroma of floral notes, and the beer had a light brown honey complexion. The honey flavor is light but not overpowering, making this medium-bodied beer a great stepping stone for those interested in venturing into the world of flavored beers.
#4. Honey Porter
Honey Porter by Cape May Brewing is a darker beer with a deep brown, nearly black presentation. At first sniff, I didn't get any noticeable honey scent from this brew, which is made with roasted and dark crystal malts.
Now with the first sip, I noticed an almost thickness to it, which is strange because it's not a thick beer. I didn't get honey on the tongue taste right away, but as I swallowed and exhaled, the honey character came through on the backend.
And like most porters, this beer has a dominant chocolate bitter taste up front with a hint of honey as almost an afterthought.
#5. Wild Night Honey Cream Ale
Wild Night Honey Cream Ale by Swamp Head Brewing has a light amber color and no noticeable wildflower honey aroma but sort of a bready, sweet, grainy smell.
With my first sip, I noticed almost a lemony presence in my mouth with vanilla that fades away very quickly and a small suggestion of honey. But after you swallow it, you get that residual sweetness of honey in the back of your throat.
The playful combination of citrus and honey character adds complexity to this brew while keeping a light, crisp taste.
#6. Truck Stop Honey Brown Ale
Truck Stop Honey Brown Ale by Back Forty Beer Company presents with a medium brown-amber color and offers a very subtle scent of honey but mostly toffee with a little bit of Carmel.
Taking my first sip, I was initially hit by the flavors of sweet roasted caramel malt, not to the extent you get with a porter or stout, but very everpresent.
I think the raw honey, in this case, enhances that roasted caramel malt flavor, almost like a background singer adding harmonies. But, you do get a bit of the honey in the aftertaste, but it's very subtle.
#7. Inner Crazy (Strata) Triple IPA
Inner Crazy (Strata) Triple IPA by the Electric Brewing Company is a pretty interesting fruit beer. Usually, with most Triple IPAs, when the ABV climbs above 8 percent, the quality goes a bit downhill. But that's not the case here. With a 10 percent ABV, this beer isn't too boozy or heavy.
The nose of the beer presents a kind of a tropical, citrus, pine, garlicky aroma that hits you with almost an "electric" jolt.
Diving into my first sip, I was almost worried that the aroma would be misleading, but my fears were quickly assuaged. There's definitely the presence of honey that heightens the tropical flavors.
In a word, this beer is delicious! This beer delivers impact, vibrance, aggressiveness, and all the things that really make a great high ABV beer shine. It's not an easy feat, but the Electric Brewing Company knocks it out of the park with this brew.
Brewing Honey Beer
How much you use and when you add it makes a huge difference when brewing honey beer. For example, most homebrew beer recipes call for between one cup and one gallon of honey for every 5-gallon batch.
Honey is 95 percent fermentable, which means it loses much of its sweetness doing the boiling stage, and adding it during the boiling will increase your overall ABV.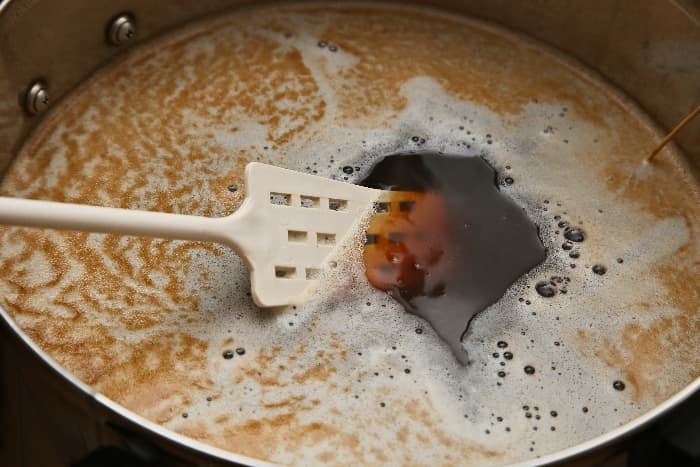 But, if you want to keep that sweet honey flavor, you can add your honey doing the boil when there are roughly 35 minutes left to go.
Now, if you're looking for a stronger honey flavor and wish to keep that sweet aroma, wait until your boil's about five minutes till done. Doing this will keep the honey from going to the bottom of your pot, where it will just burn off. Be sure to stir vigorously as you add honey so it can dissolve into your brew.
For more information on how to brew with honey, check out his handy step-by-step guide.
Honey Beer: Final Thoughts
Honey beer is an excellent option for beer drinkers who love to experiment and even die-hard traditionalists who want to try something new but not "too weird" from time to time. Several incredible honey beers like Inner Crazy and The Break of Jawn make you want to try more, no matter what style you enjoy most.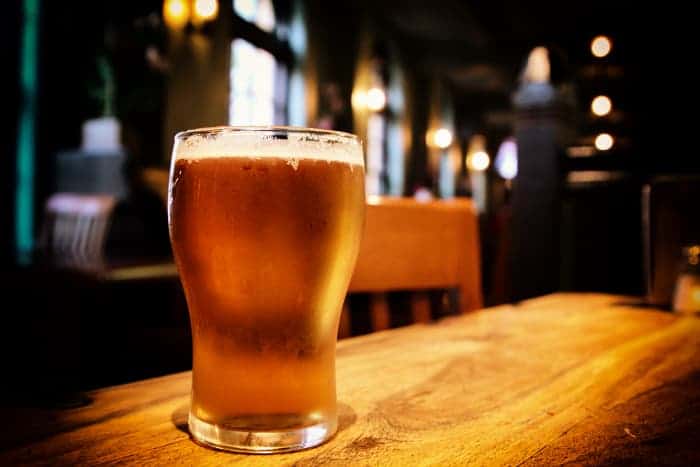 Curious to know what other kinds of beer are out there? Check out our beer styles blog posts to read profiles on how other kinds of beer are made and to get suggestions of ones to try.