I admit that having an entire tutorial on pouring beer seems a little foolish at first. After all, you've been pouring beer since you were seventeen and snuck off to the garage with a purloined can of your dad's Keystone Light. If there's anything you know how to do, it's pour a beer. Well maybe you're right, but I've found that there are plenty of people who could use a little bit of help with this simple task. And you should be eager to learn; a properly poured beer makes beer better. It looks better, it smells better, most importantly it tastes better, and tastier beer is something we should all strive for.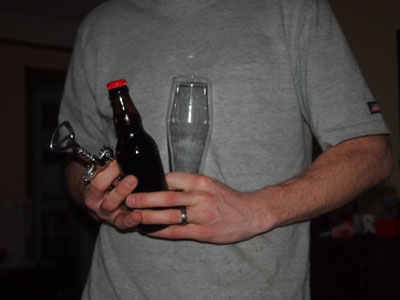 But I'm also not some hard-line authoritarian pour-master. Ultimately, if you've poured beer from the bottle into a glass without managing to spill too much on your shoes or your dog, you've done a pretty good job. You can still drink it, you'll still like it, and you can always practice by pouring another one when you're finished. But proper pouring is easy, barely takes any time, and you'll do it because I told you to and that's good enough.
The first thing you need is a clean glass. Some people think that every beer should be poured in its proper glass; an Abbey in a tulip glass, an imperial IPA in some fancy pants wine glass, a pilsener in the aptly though uncreatively named pilsener glass. There might be some truth there, but ultimately I don't put too much stock in it. I usually use only two types of glasses at home, and not even that if the dishes are dirty. For most beers I'll use a nonic pint glass. This is the one you see at Irish bars that looks like a regular pint glass with a slight bulge towards the top. This bulge helps create a nice head, and holds in aroma. For stronger beers with a smaller pour I'll use a tulip glass which, in addition to being the right size for strong beers, is also shaped to hold the volatile aromatics and direct them right into your nose for your enjoyment.
By the way, those straight sided "regular" pint glasses? Kind of a cheat. They only hold an American pint, which is 16 ounces rather than the 20 ounces you should expect from an old fashioned imperial pint. This doesn't really matter when you're drinking at home, since bottles and cans generally only hold 12 ounces, but it's something to note when you're out on the town. Anyways, just grab any old glass that isn't covered in crud and let's move on.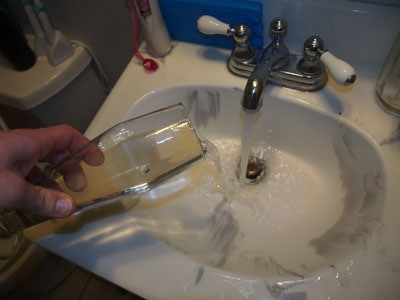 The first thing you should do is rinse the glass out. I know, I know, the glass is already clean. But listen, even sitting in a closed cupboard, dust will gather in your glass and you don't want any of that in your beer. It's gross. There's also some sciencey stuff about dust and dirt providing undesirable nucleation points in the glass, but that's boring and I'm going to skip it. The short version is you want a really clean glass. So unless you literally just washed it, rinse out your glass and stop asking questions.
The basic trick to pouring beer is that you always want to pour the beer straight down while changing the angle of your glass at the appropriate time. To start off, hold your glass at a 45 degree angle. Since you're pouring your beer straight down, the flow should hit the glass about halfway down the side. Don't cheat and pour the beer down the side wall, you want to hit the middle so you create just a little bit of agitation. Once the glass is about halfway full slowly rotate the glass so that once the beer is two-thirds poured, the glass is pointing straight up. Pour the rest of the bottle right in the middle of the glass to create your head. It's that simple. This should get you a decent, but not overwhelming head of foam.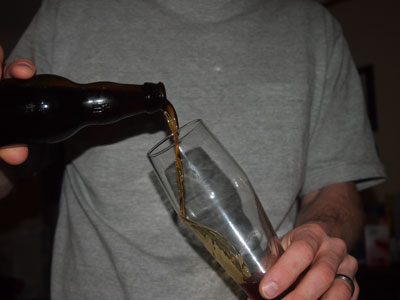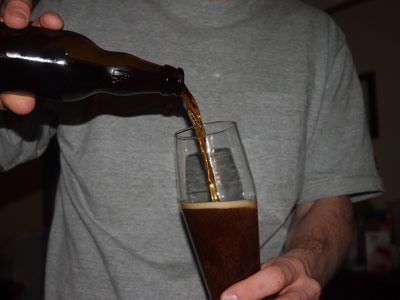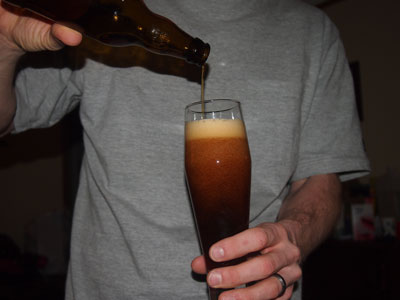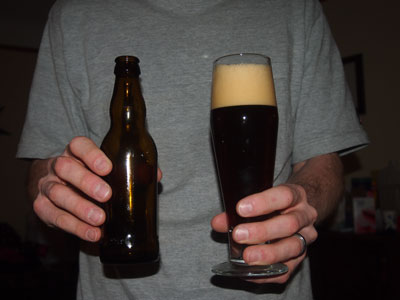 Of course, your millage may vary due to the carbonation of the beer you're pouring or the glass you're using, and you'll have to adjust based on your own experiences. But I'd recommend you make your mistakes on the side of too much head, and not too little. If the head gets too tall, just wait a minute, and resume pouring. As the head compacts it'll actually get richer and creamier, which is especially nice for stouts and English ales. This does require a bit of extra patience, but it's worth it.
Now get practicing.