Going gluten-free is a huge challenge for any beer lover, as beer is a naturally gluten-rich beverage. Luckily more and more brands have started brewing gluten-free beer options, and 100% gluten-free brewing companies have opened up. If you're looking for something that's both gluten-free and delicious, this guide will help you find the best of the best gluten-free beer!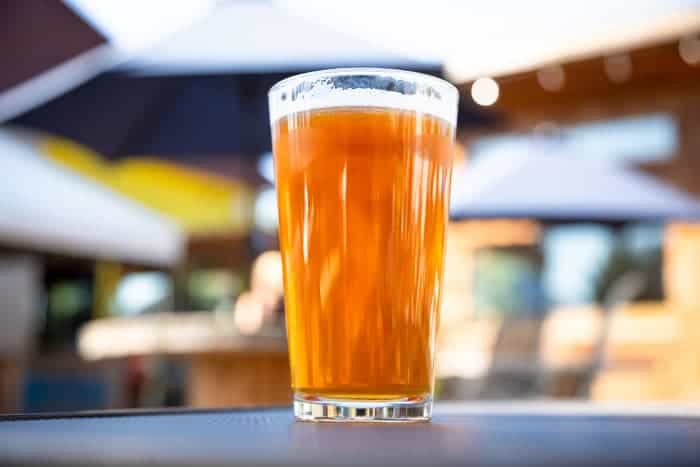 A Quick Intro to Gluten-Free Beer
If you're new to gluten-free beer, it's intimidating to figure out where to start and what to drink! Never fear! Beers and breweries in this guide are split into categories: gluten-reduced, gluten-free, from 100% gluten-free breweries, and gluten-reduced.
Each of these options has pros and cons. For those with an extreme sensitivity to gluten, 100% gluten-free breweries are the safest options, but anything labeled 100% gluten-free is low-risk and any gluten contamination would be from cross-contamination and only in trace amounts, for someone looking to go gluten-free without giving up traditional beer ingredients like wheat barley and rye, gluten-reduced is the way to go.
And don't worry, the most important thing about all of these gluten-free beers is the great taste!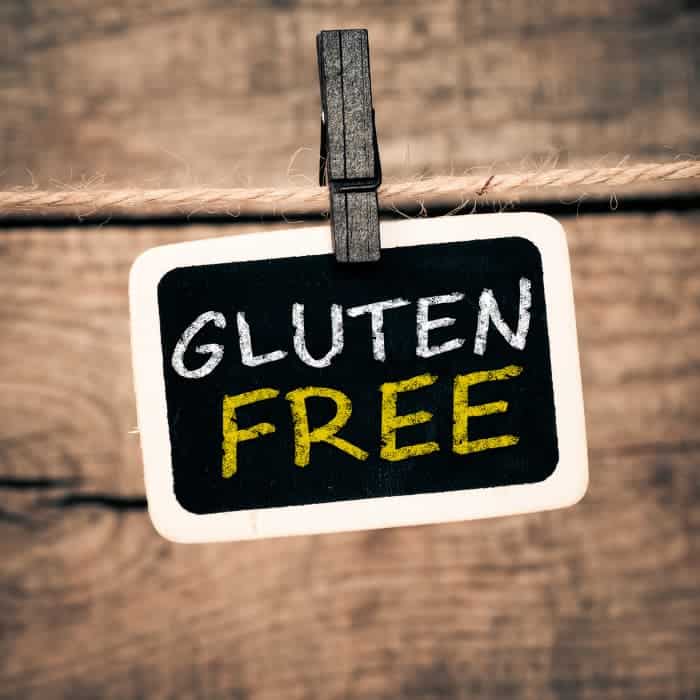 Best Gluten-Free Beers from Big Distributors
1. The Redbridge Lager by Anheuser-Busch
The Redbridge Lager is the most widely available gluten-free beer on this list! Since this beer is distributed by a national distillery it has a larger distribution range than any other gluten-free beer and is available in grocery stores across the United States.
Made with sorghum and 100% gluten-free, this light lager goes down smooth with a sweet mild flavor that is comparable to the regular beers brewed by Anheuser-Busch. While not as amazing as the beers on this list brewed by craft breweries, anyone looking for an easy-to-find, mainstream beer alternative will find this lager satisfying.
Best Gluten-Reduced Beers
2. Lager by Omission Brewing Co.
Omission brews an IPA and Pale Ale a Lager and a Light Beer. While Omission makes gluten-reduced, not gluten-free, beers they do provide test results for every batch of beer they brew for full transparency into the gluten content, as far as current testing can measure. Head to their website to find results for any batch you buy!
Omission Lager is a traditional lager brewed with Millennium and Cascade hops. This award-winning brew goes down easy. Refreshing and light this brew tastes citrus bright with a touch of the floral, and is as good as any glutenous beer!
3. Drink This or the Bees Die by Duck Foot Brewing Co.
Duck Foot Brewing Co. brews with traditional ingredients and reduces the gluten content in production.
Their Drink This or the Bees Die honey lager is brewed with locally sourced honey and has a voluptuous fruity sweet flavor with hints of hops in the finish. This floral and lush beer is not very bitter but has a complicated flavor that doesn't linger too long on the sweetness before its dry finish. Not only is this rich lager delicious, but a portion of the proceeds will also go towards Planet Bee Foundation.
4. Daura by Damm
This Spanish brewing company has been removing gluten from their Daura beer since 2006. This award-winning addition to their selection of regular beers has been perfected over the last 15 years to create a perfect uncomplicated international brew.
Headier than many gluten-free brews, Daura is a golden and foamy beer. This beer is fresh tasting with a touch of acid, and a bitter finish is sure to please the palate!
5. Stone Delicious IPA by Stone Brewing
These California IPA experts took their brewing talents to craft the perfect gluten-free IPA.
The Stone Delicious IPA is as delicious as the name suggests. Medium-bodied and dry, this bright lemony beer packs a flavor punch that finishes with the bitterness expected from a great IPA. Brewed with Nugget, Calypso, Lemondrop & El Dorado hops, the hoppy spiciness in this brew is not to be missed!
Gluten-Free Beers from Regular Breweries
6. Bard's
Bard's only brews one beer! The original sorghum malt beer was off the market, but has returned is, as always, guaranteed to be 100% gluten-free.
Bard's is about simplicity! They malt the sorghum, unusual for gluten-free beers, so they don't add additional ingredients to flavor their beer. When you drink Bard's you are drinking a beer made simply and without fuss. Not looking to replicate complicated craft brews Bard's proves that good gluten-free beer can be crafted in the same manner as a traditional beer without compromising the drinking experience. This beer is lightly bitter, with floral notes and a satisfying finish.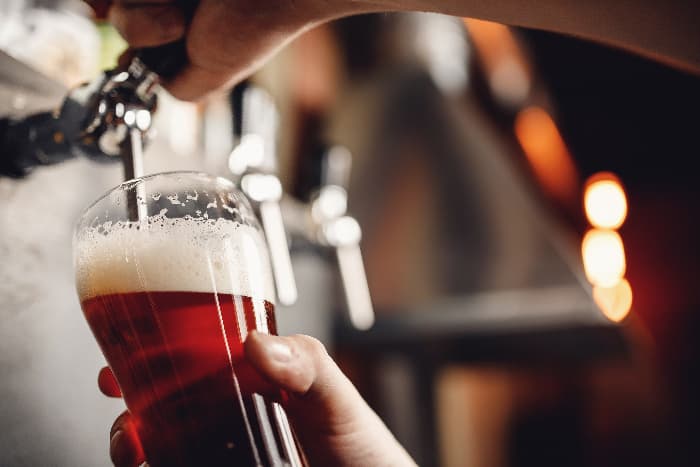 7. Hell Yeah by Armored Cow Brewing
Armored Cow Brewing is located in Charlotte, North Carolina, and brews fabulous craft beers for everyone, including those on a gluten-free diet!
Hell Yeah is a gluten-free hazy IPA made with buckwheat, millet, and oats and brewed using Mosaic and Citra hops. With an upfront citrus punch and a noticeably hazy flavor, this beer is sure to please IPA fans.
8. Gluten-Free Saison by Exchange Brewery
This Niagara-on-the-Lake brewery is run out of an old telephone station and mostly brews traditional beers, but their single gluten-free selection is a flavor hit.
It's rare to find a gluten-free Saison, but this Canadian brewery has nailed it! Brewed with buckwheat, sorghum, and herbal hops this Saison is sweet and fresh with earthy tones. A clear and very pleasant drink!
Best Gluten-Free Beers from Dedicated Gluten-Free Breweries
9. Amber Ale by Aurochs Brewing Co
This Pennsylvania brewery crafts its beers with different roasts of malted millet, quinoa, and buckwheat, all naturally gluten-free ingredients, and sends their ingredients for regular testing.
Their Amber Ale is a real winner! The hops are mild, as they should be in amber ale, and there is a toasty toffee-like sweetness to this brew that is layered with a caramelized malt flavor that appears as you continue to drink. Medium-bodied, this brew leans on a multitude of roasted millet malts, highlighting toast and toffee notes. Brewed with millet, quinoa, hops, and yeast.
10. Hollywood Nights by Alt Brew
This 100% gluten-free brewery is located in Wisconsin and uses alternate grains to craft beers in many styles, from lagers and IPAs to Ales and porters.
Their Hollywood Nights IPA is made with sorghum, rice, millet, honey, and corn-derived products. Light-colored and hop-heavy IPA this brew goes down clean with a citrus herbal freshness with just a taste of that bitter IPA finish. Sure to please any IPA fan hop-forward beer is a show-stopper.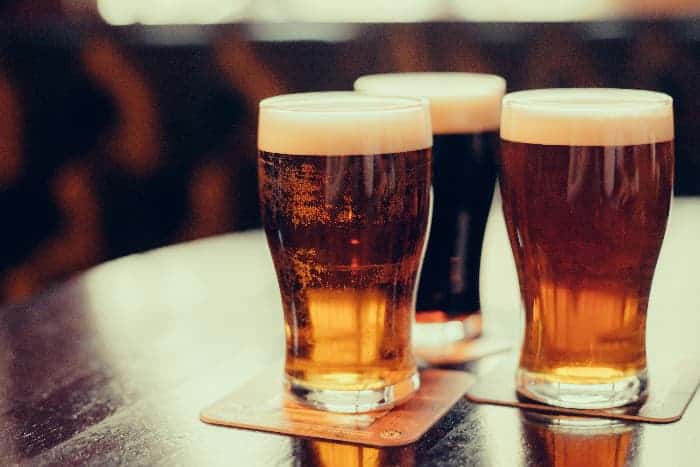 11. Gose by Glutenberg
This Canadian brewery only brews with gluten-free ingredients. Their range of beers includes IPAs, a stout, a lager, a blonde, a pale ale, a red ale, a white ale, and a Gose. Their beers are sold widely across North America.
Gose's are rare amongst current gluten-free offerings and Glutenberg's is worth a try! Fruity and sour it surprises the taste buds with its bold flavor profile. Brewed with millet, buckwheat, quinoa grains, and sour notes of lime, lemon, and grapefruit. A pinch of salt accentuates these sour flavors.
12. Felix Pilsner by Bierly Brewing
Founded in 2016 Bierly Brewing was founded on family. JP Bierly started brewing gluten-free beer for his wife after she was diagnosed with Celiac Disease. Located in Oregon this gluten-free brewery has a wide offering including IPAs, ales, and pilsners.
Our Favorite is the Felix Pilsner. This light and bubbly beer is brewed with sorghum, brown rice, Belgian-style candi sugar, Czech Saaz hops, and Oregon Magnum hops. Crisp and clear, this smooth drinking pilsner has a refreshing taste that is perfect for a hot summer afternoon.
13. Negative Space by Moonshrimp Brewing
Moonshrimp Brewing is a sustainable brewery that is truly committed to brewing gluten-free. No wheat, barley, oats, malt, or any other gluten source is involved in any part of their brewing process.
Their Negative Space: Dark Pale Ale is a dark-colored ale with the light body of a pale ale. Made with millet, vegan beet sugar, and candied vegan sugar for a light-bodied fruity ale with a solid hop flavor. The contrast of the dark color and light flavor is a surprise as learning this tasty beer is gluten-free.
14. Grapefruit IPA by Ghostfish Brewing
Seattle's Ghostfish Brewing Company brews all of its beers from gluten-free grains. Their selection of beers includes IPAs and ales.
Their award-winning Grapefruit IPA is made with Cascade and Horizon hops and then dry-hopped with Altus hops. This IPA packs in all the citrus flavor you might expect from an IPA, and then some! The strong and bitter flavors are in balance and go down smooth in this bright and punchy brew. This beer has everything you could hope for in a hoppy west-coast IPA.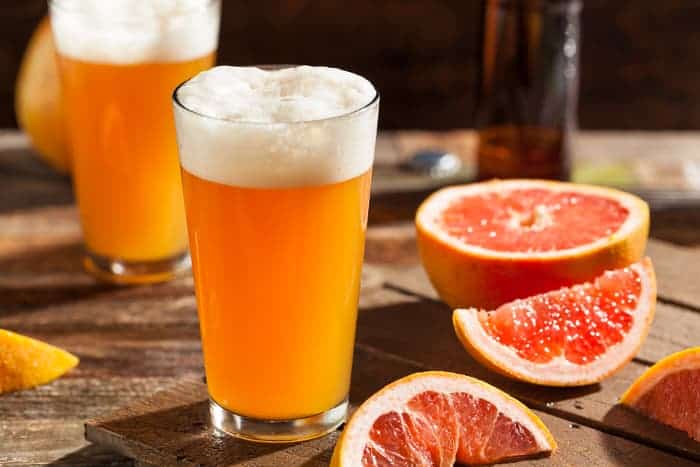 15. Riva Stout by Holiday Brewing Co.
Holiday Brewing Co. to brewing is committed to great-tasting gluten-free beer.
Their deep and dark Riva Stout is the very best of gluten-free stouts. Brewed with dark and chocolate millet and buckwheat malts this rich and earthy dark beer has flavors of chocolate and coffee. None of the rich creamy texture expected of stouts is lost in this gluten-free option and the strong bitter finish is sure to please any stout lover.
16. Hollow Hayride by Rolling Mill Brewing Company
Ohio's only gluten-free brewery has a fantastic selection of beers, that stand up to competition from the rest of the USA. They use gluten-free rice, millet, and buckwheat malts to brew their beers.
Their Hollow Hayride is a unique imperial pumpkin ale. Not at all hoppy, this ale has all the richness you want from an imperial ale. Full of fall flavors like pumpkin, cinnamon, and chocolate this ale is smooth, full-bodied, and distinctly autumnal. Pour this drink on a crisp autumn day for the perfect drinking experience.
17. Oyster Mushroom Stout – Mutantis Brewery
This funky Portland brewery takes gluten-free beers to the next level. Their experimental craft beers seek to discover the outer limits of gluten-free brewing without feeling tied down to one set of ingredients or flavors. There's always something new on tap!
Their Oyster Mushroom Stout is a subtle Irish-style stout that's light flavor comes from the oyster mushrooms it was brewed with. Conditioned in spirulina and raw cacao this is a funky, earthy, foaming beer that tastes lighter than it looks.
18. Vanilla Túpac Amaru III Imperial Black Chicha by Dos Luces Brewery
This Colorado Brewery brings a South American sensibility to their gluten-free beers. Using the corn, a native American grain, as the foundation of their beers they have wonderful unique flavors that are not looking to replicate traditional European beers, but to explore and craft from a different tradition.
Their Vanilla Túpac Amaru III Imperial Black Chicha is a new take on their Black Imperial Chicha, crafted with the Summer Solstice in mind. Brewed with malted blue corn and aged in Rising Sun Distillery Peach Brandy barrels with Palo Santo wood staves and vanilla beans, this beer has a complex flavor profile! Smooth on the palate this beer has a smoky bitter coffee flavor that blends with sweet vanilla and peach to form a tasty almost licorice-like beer.
Enjoy the Best Gluten-Free Beers!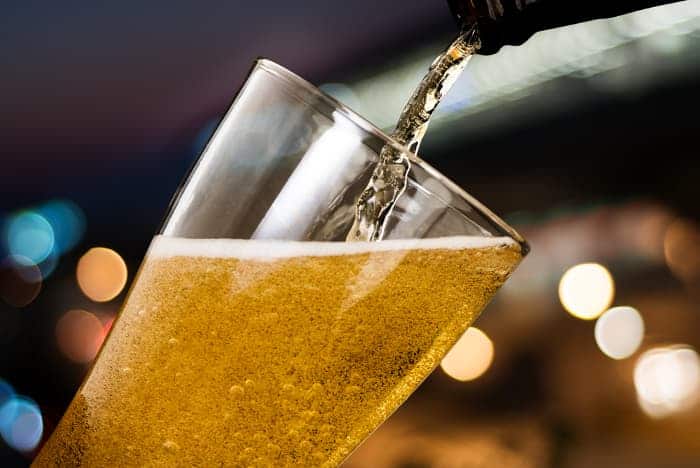 If you're cutting out gluten due to an intolerance, celiac disease, or just a dietary preference, these gluten-free beers will help bring your favorite beverage back into your life! Tasty enough to stand up to beers containing gluten, keeping it gluten-free is no longer a sacrifice.
We know there are lots of breweries out there that are constantly making new beers available — is there a new gluten-free beer that needs to be on this list? Or an established one we happened to miss? Let us know in the comments section below! To read about other kinds of beer, click here for our blog posts of different beer styles.