Like pumpkin spiced coffee drinks, there seems to be little middle ground when it comes to pumpkin beer – you either love or hate beer that has "pumpkin" anywhere on the label. But we're here to provide some guidance about the best among this kind of beer. If you've never heard of or tried pumpkin beer before, we'll help you get started. If you've tried pumpkin beer but haven't found it to your liking, maybe our list will convince you to give it another chance (a different base beer style, perhaps?).
Without further ado, here are 25 of the best pumpkin beers to try this fall.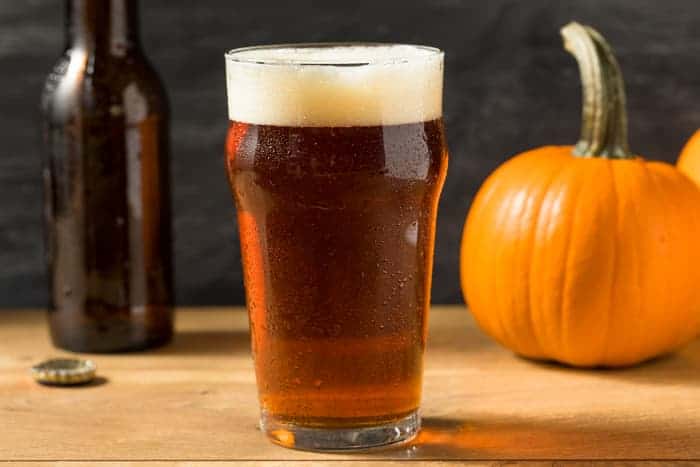 Best Pumpkin Ales
1. Gordgeous by NoDa Brewing Co.
It just makes sense to start our list with the gold medal winner for the Pumpkin Beer category at the 2021 Great American Beer Festival (GABF). Gordgeous is made with a boatload of real pumpkin, brown sugar, and whole seed spices that are cracked on the day they're added to the brew. Doing things differently is why this beer took the top spot.
2. Pumpkin Patch Ale by Rogue Ales & Spirits
This is the Pumpkin Beer bronze medal winner at the 2021 GABF. Oregon's Rogue Ales represents with their Pumpkin Patch Ale made with real pumpkin that gets chopped and roasted by hand onsite. You'll get a plethora of notes in this beer: cinnamon, cardamom, ginger, cloves, nutmeg, orange peel, and vanilla.
3. Pumpkin Ale by The Schlafly Tap Room
The Schlafly Tap Room's Pumpkin Ale is described as a "pumpkin pie beer," but it's also a beer that converts people to pumpkin beer. It's mild and malty, with very little bitterness and is made with lots of real pumpkin. You'll detect caramel, cinnamon, nutmeg, clove, and ginger in this copper-colored beer.
4. Roadsmary's Baby by Two Roads Brewing
Roadsmary's Baby is a smooth coppery-colored pumpkin beer that's rum-barrel aged and made in a traditional pumpkin ale style. The barrel aging infuses the beer with vanilla, rum, oak, cinnamon, and nutmeg to complement the taste of pumpkin.
5. Smashed Pumpkin Ale by Shipyard Brewing
Smashed Pumpkin Ale is a sweet and spicy ale with a light-orange color – but it's not an overly sweet pumpkin beer (that's good news for people who don't want pumpkin pie in a glass). You'll get an aroma of pumpkin and nutmeg and a full-bodied flavor from this beer that's best served at 55 degrees.
6. Punkuccino by Elysian Brewing
Punkuiccino is the pumpkin beer that Seattle demands. It's a creamy beer made with Stumptown coffee toddy, chocolate, cinnamon, nutmeg that play against the pumpkin flavor. Everyone described this as an alcoholic version of a PSL.
7. Voodoo Ranger Atomic Pumpkin by New Belgium Brewing Company
Voodoo Ranger Atomic Pumpkin stands out on this list because it's the beer that throws a pumpkin beer curve ball. Rather than offering yet another sweet "pumpkin pie" beer, this ale has hints of habanero, aji, and de arbol chile peppers for heat (but not overwhelming). It's a light-bodied beer with cinnamon and a touch of sweetness up front and a little "back of the throat burn" to surprise you.
8. Pumpkin Ale by Alewerks Brewing Company
Alewerks Brewing Company's Pumpkin Ale is made using spiced, roasted pumpkin. A pumpkin pie beer, you'll pick up cinnamon, nutmeg, cloves, ginger, caramel, toffee, vanilla, and even pie crust. Described as tasting like a pumpkin pie was "smashed into a bottle," this is a pumpkin beer you have to taste to believe.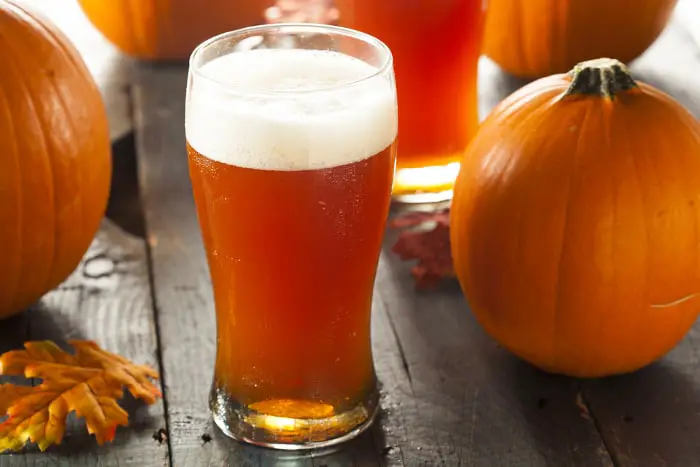 Best Pumpkin Imperial Ales
9. Imperial Pumpkin Ale by Weyerbacher Brewing Co.
Weyerbacher's Imperial Pumpkin Ale boasts more caramel and pumpkin in the flavor than other pumpkin beers. Your taste buds will be rewarded with cinnamon, clove, cardamom, nutmeg, along with the real pumpkin used to make this beer. According to the brewer, this is a great ale to accompany a slice of pie topped with whipped cream.
10. Brandy Barrel-Aged Imperial Pumpkin Ale by Lakefront Brewery, Inc.
The Imperial Pumpkin Ale by Lakefront has pumpkin and cherry brandy in the aroma, along with caramel, nutmeg, and vanilla. This is one of the higher alcohol content pumpkin beers, at 13.4% ABV, so you'll want to savor this one responsibly!
11. Pumking Imperial Pumpkin Ale by Southern Tier Brewing Company
Southern Tier's Pumking Imperial Ale starts off sweet and finishes dry, making for an interesting taste experience. You'll pick up nutmeg, cloves, and cinnamon along with other pumpkin pie flavors created by the pureed pumpkin and caramel malts used for brewing a pumpkin beer that manages to be malty, spicy, and smooth all at the same time.
12. Good Gourd by Cigar City Brewing
Good Gourd is said to be THE pumpkin beer all others are measured against. Pumpkin pie flavors of Jamaican allspice, nutmeg, Zanzibar cloves, and vanilla come through in this copper orange-colored ale. Pair it with pumpkin food like soups and pies to make your tastebuds really happy.
Best Pumpkin Imperial Sour
13. Pumpkin Kerfuffle by Prairie Artisan Ales
Pumpkin Kerfuffle is a noteworthy beer because it's one of the few pumpkin imperial sour beers out there. It's made with pumpkin pie spices (doesn't look like there's actual pumpkin in this one) and has an aroma like typical beer. But when you taste it, you'll get toasted marshmallow and vanilla in the finish. This pumpkin beer doesn't come off like an 8.2% ABV beer, so use caution!
Best Pumpkin Amber
14. 5 Phantoms 2018 Philipsburg Brewing Co.
Now we come to the silver medal winner for Pumpkin Beer at the 2021 Great American Beer Festival. 5 Phantoms is an amber barleywine beer made of five main ingredients: water, barley, hops, yeast, and spice. Three kinds of pumpkin squash provide the pumpkin aspect of the flavor profile, along with vanilla, mace, cinnamon, ginger, cardamom, and nutmeg.
15. Freaktoberfest by Coney Island
Freaktoberfest is a lovely amber-colored ale brewed with sweet pumpkin, spices, and espresso coffee. Your nose will be greeted with caramel, allspice, and cinnamon and your tongue will meet up with the pumpkin and espresso bean flavors.
Best Pumpkin Lager
16. 31 Pumpkin Spiced Lager by DuClaw Brewing Company
DuClaw's 31 Pumpkin Spiced Lager is a German-style malty lager. The pumpkin, cinnamon, cloves, allspice flavors come through on the finish of the beer, so it's not one of those in-your-face pumpkin flavored beers. This is a good choice for those who are hesitant to try pumpkin beer.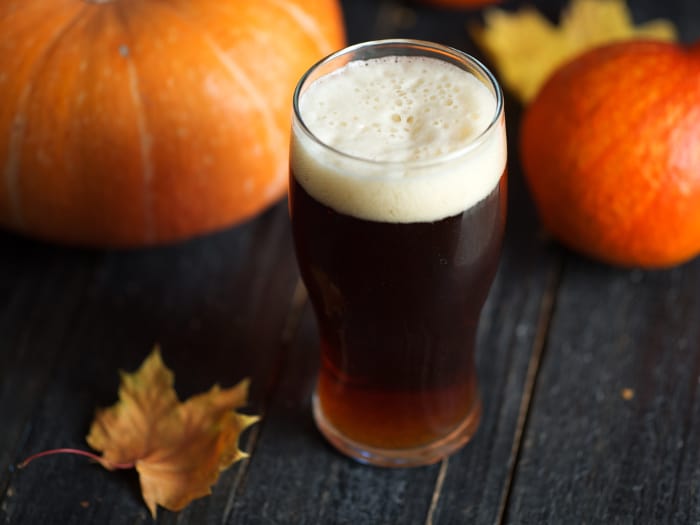 Best Pumpkin Brown Ale
17. Punkin Ale by Dogfish Head Craft Brewery
You had to know a Dogfish Head beer would score a spot on this list! They make Punkin Ale with baked pumpkins, brown sugar, cinnamon, nutmeg, and cloves. Unlike much of the competition, this brown ale tastes more like beer than pumpkin and is the beer for people who claim they don't like pumpkin beers. This is a best-seller that moves off shelves fast, so if that's not an endorsement of this beer, we don't know what is.
Best Pumpkin Wheat Beers
18. UFO Pumpkin Ale by Harpoon Brewery & Beer Hall
UFO Pumpkin Ale is brewed with barley, Northwestern hops, real pureed pumpkin, and spices that all combine into a wonderful, earthy flavor. This is a smooth and slightly sweet pumpkin beer that's a fall favorite.
19. Harvest Pumpkin Wheat by Blue Moon
Harvest Pumpkin Wheat (formerly known as Harvest Moon Pumpkin Ale) was Blue Moon's first seasonal autumn beer introduced in 1995. The fact that it's still going strong is a testament to this slightly sweet pumpkin beer made with real pumpkin and spices. Pair it with pub food for a full meal experience.
20. Pumpkinhead Ale by Shipyard Brewing Company
Pumpkinhead Ale delivers a baked pumpkin taste with notes of cinnamon, nutmeg, allspice, and brown sugar. You'll discover malt, caramel, and toast in the finish. The brewer recommends serving this crisp wheat beer in a glass with cinnamon-sugar on the rim and even pairing it with a shot of spiced rum or vanilla vodka.
Best Pumpkin Porter
21. Friend of the Farmer Pumpkin Pie Porter by Cherry Street Brewing Cooperative
Pumpkin Pie Porter is a creamy beer made with real roasted pumpkin puree added to the mash. Later a custom spice blend and lactose are added to the boil, with the end result being a rich, smooth dark pumpkin beer.
22. Boxcarr Pumpkin Porter by Starr Hill Brewery
Real pumpkin and baking spices are added to the mash of Boxcarr Pumpkin Porter. The flavors of the pumpkin and spices are light, making this a very drinkable and enjoyable pumpkin beer.
Best Pumpkin Stout
23. Javalantern Cream Stout by Haw River Farmhouse Ales
Javalantern Cream Stout is made with Long Island Cheese Squash, oats, and lactose. This pumpkin beer also contains notes of ginger, cinnamon, allspice, mace, and (of course) coffee in the flavor. A YouTube reviewer declared this would be great with a stack of pancakes (not that we're endorsing morning drinking!).
Best Pumpkin Imperial Stouts
24. Gordo by Clown Shoes Beer
Gordo is brewed with pumpkin puree and spices before being aged in WhistlePig Rye Whiskey barrels. This gives the beer hints of bourbon along with the spice and pumpkin flavors in this seasonal pumpkin beer.
25. Pumpkinator by Saint Arnold Brewing Company
The final selection on our list is one of the great American pumpkin beers. Saint Arnold's Pumpkinator won the gold medal for the pumpkin beer category in the 2017 Great American Beer Festival. It's made with brown sugar, molasses, spice, and a huge amount of real pumpkin (the brewery claims it's enough to bake 437 pies). You might just find yourself saying "I'll be back for more Pumpkinator."
Final Words on the Best Pumpkin Beers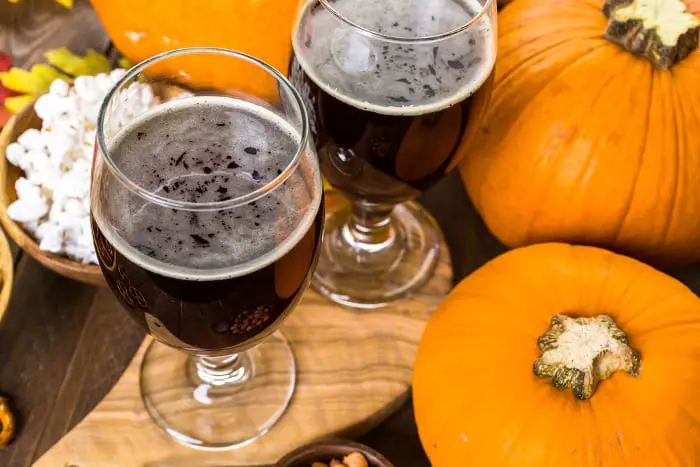 As you can see, pumpkin beer isn't just one thing. There's a wide range of styles and flavor profiles – from sweet-as-drinking-pie beer, to sours, to dry, hoppy beers – but that's actually a good thing. Because the category has so much versatility in it, there's a good chance someone makes a pumpkin beer you'll enjoy this fall. We hope you'll try one or more of the selections on our list of best pumpkin beers.
We know a "best of" list is one of those moving targets as brews come and go from the craft beer scene. Is there a really awesome pumpkin beer everyone should know about that's not on this list? Let us know in the comments section below! To read about other great kinds of beer, click here for our "best beers" blog posts.