A while ago I had the pleasure of meeting Sean Besser Hank, a homebrewer here in the Minneapolis area. He allowed me to come into his home, showed me all of his awesome homebrewing stuff (and awards) and chatted with me for nearly two hours. It was a great time to learn how Sean got into the homebrewing hobby and how he has taken his brewing to the next level.
A few things about Sean first off:
Sean has been brewing for over 6 years.
His Blackberry Wheat recipe won the Best Fruit Beer and runner for Best in Show at the Minnesota State Fair.
Sean is the 2011 U.S. Stella Arois World Draught Master Chamption
What beer started your real love with beer?
During college I actually bought "good beer," there was a grocery store that had a pretty amazing selection of beers and each week I would pick a different six pack and try them out.  The real love started on a family trip in 1999 to the Upper Peninsula in Michigan, tried a beer called Bell's Two Hearted…
How did you get started in Home Brewing?
It was one of those things I've always wanted to try but never bit the bullet to buy the beginner brewer kit so I decided one year to put it on my birthday wish list.  Well, I must have been a good boy because I received that and my first extract brewing kit.  After it sitting for a couple weeks and reading the instructions over and over I finally decided it was time to brew!  That was about six years ago.
Did you know much about homebrewing before this? Were you already looking into brewing?
I didn't know a whole lot, I didn't know anyone who had done it before and in my head I imagined it was a really complicated process.  Even after reading the instructions I was nervous with all the different temps you need to have the beer at during certain points…I figured it would turn out to be crap.
What was the first beer you brewed?
An Amber beer kit purchase with the beginner kit.
How did it turn out?
Pretty good at the time, I figured it would be bad.  Not sure what I would think of it today, but I remember pouring the first one out and being pretty impressed!
When and why did you decide to go to all grain brewing?
The switch to all grain was just after about four years of brewing, I was doing half all grain/half extract brewing for a couple years before that, but didn't have the right equipment to go completely all grain.  Going all grain I was able to better get the flavors of the beers I was looking to make, since most extracts are limiting in their flavors.  Going all grain requires a bit more precision with temps and timing, but after a few batches I got my system down pretty good.
I know your Blackberry Wheat beer has won a couple of awards over the years, can you tell me how you developed this recipe?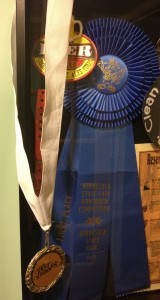 Only the first couple beers I brewed were kits and it was soon after I started to thumb through the homebrew store catalogs and noticed other hops, grains and other things you could add to beer.  For the blackberry wheat it was my fourth beer I ever brewed.  I started with a simple wheat ale base and looked at flavors I would like to add with the hops and went with some that were a little spicier to work with a sweeter beer.  The first one was really just, I'll add some of that and some of that with no rhyme or reason.  I added the fresh blackberries to give it just enough of the fruit flavor and aroma but not enough to overpower it.  It turned out to taste really great and I entered it in my first competition.
You can find Sean's recipe for his Blackberry Wheat Here
What awards has it won?
The first version won the 2008 Sam Adams Longshot Competition (Fruit Beer – Chicago Region)
Second version won the Fruit Beer Category and First Runner Up Best of Show at the 2010 Minnesota State Fair – The Blue Ribbon
Third version won 3rd place at the Summer Beer Dabbler 2011
I have also heard something about you and Stella Artois, can you tell me what this is all about?
In 2011 I signed up online to play the Stella Artois 9 Step Pouring Ritual game and had scored high enough to be in a drawing to partake in the US Draught Master Competition in Washington DC, I won the drawing and soon after my wife and I were flown to Washington DC for the event.  The other competitors had won spots via regional events and I was the online "Wildcard" winner.  I had a little practice that day pouring Stella Artois, and later that night during the competition I wound up winning.  The week after that we flew to Buenos Aires, Argentina where I competed in the world finals and finish 4th place in the world.
I've met a lot of great people and have been able to do many exciting things revolving around beer since; I was able to visit the AB/InBev Hop Farm in Munich, Germany and visit the hop institute in Munich to see how hops are grown, processed and developed.
How often do you brew?
I usually brew once a month in the winter and probably twice a month in the summer.
What is a brew day like for you? Can you walk me through your process?
Usually a brew day for me is about five hours and involves me getting up at 5am to head down to the Schmidt Brewery in Saint Paul to get my water.  By 6am the kettle is fired up and coffee is in hand; something is calming about getting up early and brewing has the sun is rising.  I get the mash going, sparge and start boiling and adding hops.  Usually by 9am – 9:30am the boil is coming to an end and I move the wort into the basement to cool down with my chiller and pitch the yeast.  Most of my beers ferment in the basement since the temp is pretty stable throughout the year.  By the time everything is cleaned up it's probably 10:30am and the day is fresh!  When people ask about the brewing process I explain it involves: heating water, waiting an hour, boiling water, waiting an hour and finally cooling the water.
For deciding what to brew depends on the season and if I'm looking to make a new style of beer I haven't brewed before or tweaking one of my current recipes.  I use BeerSmith to store and make my recipes.
What is your favorite beer to make?
This is a hard one; my favorite that everyone likes is the blackberry wheat, it's a lighter easy drinking beer; but I also like to brew pale ales since it's a style that most people like to drink, and I love a good pale ale. I love to experiment and make something funky, if it's making a beer to barrel age (I have two five gallon oak barrels) or a hard to find style or variation on a style.
What does your wife think of this hobby?
She loves it I would like to think!  The brewing smell is not her favorite so I quickly moved the brewing outside, but I have my space set aside and she likes the beer I make!
Can you tell me a little bit about your brewing set up? What are your favorite tools/equipment?
My brewing setup has evolved over the years; it started with a nice propane burner and 7 gallon stainless steel pot both purchased from Amazon for around $100 total.  I also have a homemade mash tun made from a cooler (similar to this – https://www.brewersunion.com/the-30-mash-tun/) a hot liquor tank and backup burner purchased off Craigslist.
Some of my favorites are: a wort chiller (chill your beer in 15 minutes), a refractometer for quick gravity readings which helps hit your numbers in all grain brewing (purchased off eBay for $25) and the Carboy Cleaner (http://www.northernbrewer.com/shop/the-carboy-cleaner.html), makes quick work of cleaning a carboy!
I've also moved into kegging beer last year and built a small kegerator that holds three – five gallon kegs.  I built a wood top and coffin for the top to make it a little more pretty.  Kegging, if you can afford the initial outlay, is the easiest way to get your beer carbed and ready to drink.  I still bottle a little, but for the most part it's just kegs.
Did you make any of this yourself?
The mash tun and my kegging system were all built me.  The mash tun is easy and cheap to make and works just as good as any other out there.  For the kegging system, that was built from a little here and there and what I needed the system to do for me.  It's one of my favorite parts since it looks nice and works great!
What beer are you brewing next?
The next beer I'm looking to make is a cream ale and the blackberry wheat…time to start preparing for the summer!
Any long term brewing goals?
Someday I would love to open my own brewery; assuming the laws keep changing here in Minnesota I would love to open a neighborhood taproom in Saint Paul where I would sell pints and growlers.
What advice would you give to fellow homebrewers just getting started in the hobby?
Start small, most of the initial equipment needed to brew beer can be found on Craigslist for a great price.  If you love it, slowly build your setup and learn your setup inside out!  When your brewing – cleaning and sanitation!  Its beer, don't sweat the details too much and have a few after brewing!
Thank you so much to Sean Besser Hank for taking the time and letting us pick his brain about homebrewing!
If you would like us to feature you and your homebrewing fill out our Homebrewers Form Here. ')}